Jared's Bagels: The Early Bird Gets the Bagel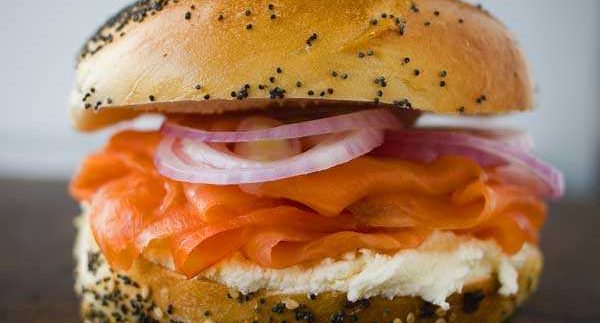 Delivering
niche international cuisine to the Capital's roster of dining options has
become something of a cult activity. The newest 'it' item to sample? Why, the
bagel, apparently.
New York expats in Cairo
probably spend nights dreaming of a freshly toasted bagel, cleanly sliced, wrapped
in white paper and packed with preferential fixings of Philadelphia cream cheese, perhaps some lox or
just a patty of melted butter. If you count yourself among those with an
insatiable homesickness for corner deli fare, Jared's promises to deliver what
it professes to be 'The Bagel of Egypt'.
What
Jared's Bagels produces fresh every morning– beginning at 6:30AM for the early
risers– are bagels that are baked rather than boiled, and they often taste more
like fresh rounds of bread than the
typically chewy texture that a bagel entails. Get off your high horse, though;
they are tasty all the same, even if they lack the secret bagel ingredient.
The
store's main branch in Maadi is decorated in cheerful shades of orange, with
two small indoor tables set for a cosy bite. For a breakfast stopover, take
advantage of their wireless internet– if you consider this the modern day
version of perusing the early morning paper; you have yourself a pleasant start
to any weekend morning. The egg sandwich is prepared behind the counter, coffee
poured from the glass pot, all with good-natured service.
Jared's
does not limit itself to its namesake baked goods alone: besides the fifteen varieties
of bagels that range between 4.50LE and 6LE, you can find brownies, chocolate
chip cookies, rice crispy treats, salads, home-baked granola and more. You
won't find the traditional poppy seed or sesame bagels, but Jared's gets fancy
with bagels of chocolate, blueberry, cinnamon crunch and Romano cheese.

A
personal favourite is the honey whole-wheat (5.50LE); delicious when toasted
and served with a moderate portion of Philadelphia
cheese. More gourmet options include the very flavourful olive or sundried
tomato bagels. Scones, cinnamon rolls and freshly baked bread are also on
offer, but you might want to call ahead to inquire what is fresh out of the
oven.
For
something a bit more substantial, try a simple turkey and cheese sandwich
served on your bagel of choice, or an egg and cheese sandwich for a hearty
breakfast; Jared's also serves a two-piece pepperoni pizza bagel (18LE) and the
quite popular bagel hot dog (8LE).
While
recently opened bagel businesses may be giving Jared's Bagels some competition,
the bakery continues to provide impressive variety and friendly service; for
which we are grateful.