12 Years a Slave: Absorbing Tale of Hope
Benedict Cumberbatch

Chiwetel Ejiofor

...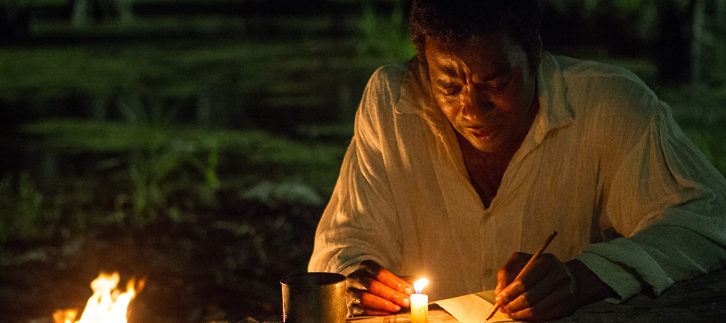 Unconventional and brutal, Steve McQueen's third feature film, '12 Years a Slave', is based on the 1853 autobiography by Solomon Northup; an ex-slave from one of the darkest chapters in American history.
Starting off in 1841, young New York-based professional violinist, Solomon Northup (Ejiofor), is living a peaceful and happy life with his wife and two children. He is soon approached by circus-travelling illusionists, Brown (McNairy) and Hamilton (Killam), who offer Northup a chance to travel with them to Washington D.C. However, after a night of wining and dining, he wakes up to find himself abducted, tied to chains and sold into slavery.
Feeling shamed and powerless, Solomon's protests fall on deaf ears and he finds himself sent to New Orleans to work for plantation owner, William Ford (Cumberbatch). Experiencing everything from physical abuse to emotional cruelty, Solomon is still hopeful that he will be able to contact his family and return to his former life. However, his chance of escape is quickly diminished when he is faced with the vicious and the cruel farmstead owner, Master Edwin Epps (Fassbender) and his merciless wife, Mary (Paulson).
Despite not being given enough time for character exploration, Ejiofor is wonderful as the leading role of Solomon and the British actor manages to carry the weight of the story remarkably well. As the villain of the story, Fassbender is magnificent; fiery, unforgiving and utterly hateful, his commitment and devotion to his role is breathtaking, while Paulson, along with the rest of the supporting manage to make a mark as peripheral roles.
Shocking, violent and utterly relentless in its depiction of the grisliness and foulness of slavery, Steve McQueen's approach might prove a little too difficult for some viewers to sit through.
The cinematography, meanwhile, is of the highest quality; the vast, beautifully captured shots of cotton fields and muddy swamps, along with Hans Zimmer's quiet and mellow score, really add to the film's theatrical presence.
Pitiless, heartless and exceptionally intense, 12 Years a Slave is definitely not for the faint-hearted. Although it offers little new insight about the topic of slavery, the story is strong enough to illustrate and substantiate Steve McQueen's standing as one of the most talented filmmakers around.