22 Jump Street: Hilarious Sequel
Christopher Miller

Phil Lord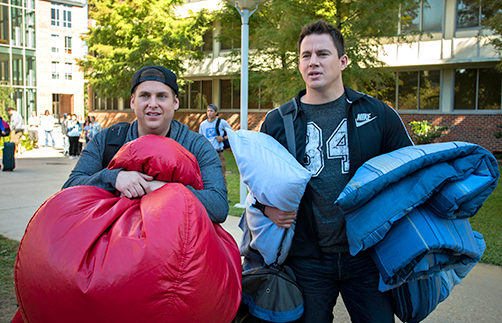 One of the main reasons why 21 Jump Street – the 2012 reboot of the celebrated 80's TV-cop show – was such a huge box-office success was that it never took itself seriously. The sequel – perhaps one of the most anticipated comedies of the year – is smart enough to expand its comedic walking grounds and retain the same self-mocking attitude in the hilarious and entertaining, 22 Jump Street.
Directed by Phil Lord and Christopher Miller, 22 Jump Street starts off with a 'previously on' recap of the first film – a little homage to its TV cairorevamp_users – which finds partners, Jenko (Tatum) and Schmidt (Hill), successfully bringing down a high-school drug dealing ring.
After failing to arrest one of the most wanted criminals in the country, the duo is once again pulled back into Jump Street; the separately-financed program, run by the no-nonsense Captain Dickson (Cube). This time, however, their playground has been swapped from high school to college, where the unlikely duo must track down and put a stop to the spread of 'WhyPhy'; a dangerous hallucinogenic that has already claimed the life of one student.
In order to fit in, the partners decide to enrol themselves in various classes and activities with Jenko going off to join the football team – and immediately bonding with the campus jock, Zook (Russell) – while Schmidt goes on to fall for art-major, Maya (Stevens). However, their relationship – and what they thought was an unbreakable bromance – is soon put to the test and if they are ever to locate the dealer and close the case, they must first find a way back to one another.
Calling 22 Jump Street a sequel is a little far-fetched as the only thing that has changed is the address. Everything else is pretty much the same. This rather clever angle, to an already established premise, is refreshing, as are the jokes and the ongoing gags that tend to mock its very own "bigger budget, bigger spectacle" premise.
One of the best things about 22 Jump Street is the onscreen pairing of Tatum and Hill, whose incredible charisma and easy chemistry. Hill, who was the shining star of the first film, seems to have taken a back seat this time around and even though his passive-aggressive attitude – and the downright hilarious 'walk of shame' scene – is an endless source of laughs, it's Tatum who takes centre stage.
Funny and light, 22 Jump Street is far from perfect, but it is fresh, and most important of all, it makes you laugh.