3 Days to Kill: Kevin Costner In Predictable Action Thriller
Amber Heard

Hailee Steinfeld

...

Action & Adventure

Crime

...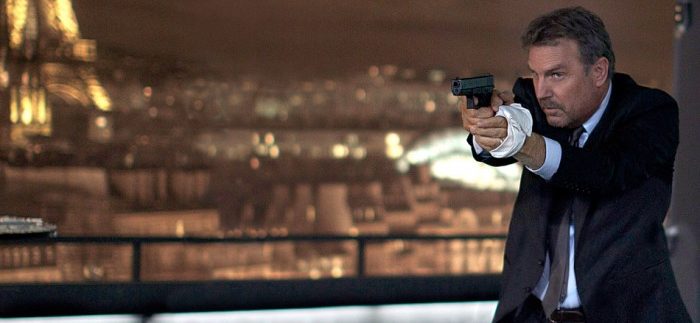 Directed by Charlie's Angel's Joseph McGinty Nichol, and co-written and produced by none other than Luc Besson, 3 Days to Kill stars a fifty-nine year old Kevin Costner. Still looking for that one career-reviving role, he rolls up his sleeves to take on the bad guys in what plays out as a cluttered and forgettable film.
The story centres on Ethan Renner (Costner); a CIA veteran who – during one disastrous mission of pursuing wanted arms dealer, The Wolf (Sammel), and his accomplice, The Albino (Lemarquis) – collapses and blacks out, only to find out that he is dying from an inoperable brain cancer.
With no other choice but to withdraw from duty, Ethan travels to Paris in order to reconnect with his estranged wife, Christine (Nielsen), and his equally alienated teenage daughter, Zoey (Steinfeld). Assuring them he is well and truly out of the game, Ethan soon steps into the role of caring dad; much to the protest of his troubled teen who wants nothing to do with him.
His promise is soon broken when he gets pulled back into duty by a fellow CIA operative, Vivi (Heard); an icy, mysterious femme-fatale who offers Ethan access to an experimental drug that could drastically prolong his life in exchange for helping her finally track down The Wolf and The Albino. Unable to refuse, Ethan finds himself back in action, all the while balancing the father act.
The film is a bizarrely constructed thriller that never really finds its rhythm; the lack of focus is evident in everything from the mild, watered-down action sequences, to the predictable, father-daughter reconciliation plot strand.
Despite the film's glaring weaknesses, Costner gives a generally solid performance throughout; he's convincing as both a tough, no-nonsense CIA Agent and a remorseful and sincere father looking to get on his daughter's good side. The chemistry shared between him and Steinfeld works, but only in the film's quieter moments, while the wig-wearing Heard, in a role that is very similar to Angelina Jolie in Wanted, is too cartoonish and over-the-top to be taken seriously.
While one might argue that 3 Days to Kill utilises all the elements of a modern day action film, one can't help but think of it as one big cliché that lacks any kind of originality, panache or flair.