300: Rise of an Empire: Bloody Sequel Just About Lives Up to Predecessor
Eva Green

Hans Matheson

...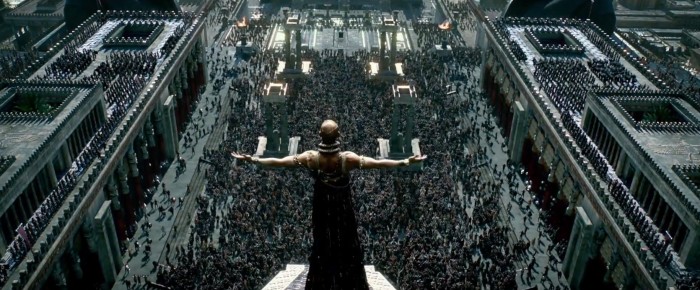 Zack Snyder wowed audiences back in 2006 with his super-slick fictionalised retelling of the infamous Battle of Thermopylae in 300. Now, the long-awaited sequel is here; bloodthirsty and unforgiving, it's safe to say that 300: Rise of an Empire will not disappoint fans of the first film.
Serving as both a sequel and a prequel, 300: Rise of an Empire takes its attention away from the Spartans and their army of noble men, this time putting its focus on the origins of their enemies and the wider ramifications of the events from the first film. The story is centred on Athenian General, Themistocles (Stapleton); a fearless warrior who, during the Battle of Marathon, fatally injured King Darius I (Naor), the great leader of Persia and father of God-King-to-be Xerxes (Santoro).
Ignited with anger and an incredible desire to spill Grecian blood, Greek-born Persian warrior, Artemisia (Green) plans to transform Prince Xerxes from a fearful Prince into a Persian God-King, to ultimately guide their people into war with the Greeks.
Ten years later, Xerxes is ready to send his troops into battle, concurrently engaging King Leonidas and his 300 Spartan men in the overwhelming Battle of Thermopylae, as well as General Themistocles, who goes on to battle Artemisia's naval army at sea. The fate of Greece lies entirely with Themistocles, whose army is once again devastatingly outnumbered, but whose determination and courage go a long way in their fight for freedom.
Santoro returns to reprise his role as the towering giant that is Xerxes and although the character's backstory is one of the most engaging elements of the film, the Brazilian actor fails to offer any depth to the complex kind. As the lawful Queen Gorgo, Headey retains a very royal pride intensity as the wife of the fallen Leonidas, while Stapleton – as the film's lead – delivers just enough to score a passing grade, but ultimately lacks the charm and presence of Gerard Butler.
On the other hand, adding Green into the picture is arguably one of best decisions that the filmmakers could have made; as the trouble-brewing Artemisia, she steals the show.
Sticking to the same visual aesthetic, 300: Rise of an Empire is just as absorbing as its predecessor, with director Noam Murro given the freedom to paint on a much larger – and bloodier – canvas.
Although the thrust and energy of 300 seems like an awfully difficult feature to replicate, there are still plenty of adrenaline-pumping moments behind the blood-stained battles to make 300: Rise of an Empire an enjoyable follow-up.