Gods of Egypt: Epic Fail for Whitewashed Fantasy Farcical
Brenton Thwaites

Chadwick Boseman

...
Riding on a wave of whitewashing controversy that has kept people talking about it and armed with a whopping $140 million budget, much was expected from Gods of Egypt – not necessarily good expectations, but something. But we don't get anything. Just a by-the-numbers fantasy action that could have been just painted in Roman, Greek or Aztec mythology and it not have changed the inane plot at all.
The story of course takes place in ancient Egypt – or at least some fantastical version of it – where Horus, God of the Sky (Coster-Waldau), is about to be crowned as the new ruler of the land, taking over from his aging father, Osiris (Brown). However, the ceremony is interrupted by Osiris' bitter brother, Set, God of the Desert (Butler sporting an even heavier Scottish accent than usual), who wants to take the throne for himself, proceeding to murder his brother and challenging his nephew to a battle.
Unfortunately, Horus is quick to lose to his uncle who, in order to ensure that Horus won't pose as a threat, has his eyes removed, banishing him from the kingdom for good. Feeding off of the power from the remaining Gods and throwing the rest of Egypt into slavery, Set is slowly growing into an unstoppable force which no one dares challenge. Enter, Bek (Thwaites); a young thief who agrees to help his girlfriend Zaya (Eaton) into stealing Horus' eyes from the fortress and have them returned to the rightful heir of their land, hoping that he will gather enough power to remove Set from the throne for good.
Alex Proyas' rather elaborate take on Ancient Egyptian doesn't seem to have been conceived in any kind of logical plane. Sporting several indiscernible subplots and every single special effect and CGI trick in the book, the film takes on more of video game structure; there's a vague revenge story in here, but the big set-pieces barely seem strung together. What's more peculiar is the way the script tries its best to employ a little self-referential humour, but those efforts never really register and only serves to make more of a mockery of the film and expose its already gaping flaws.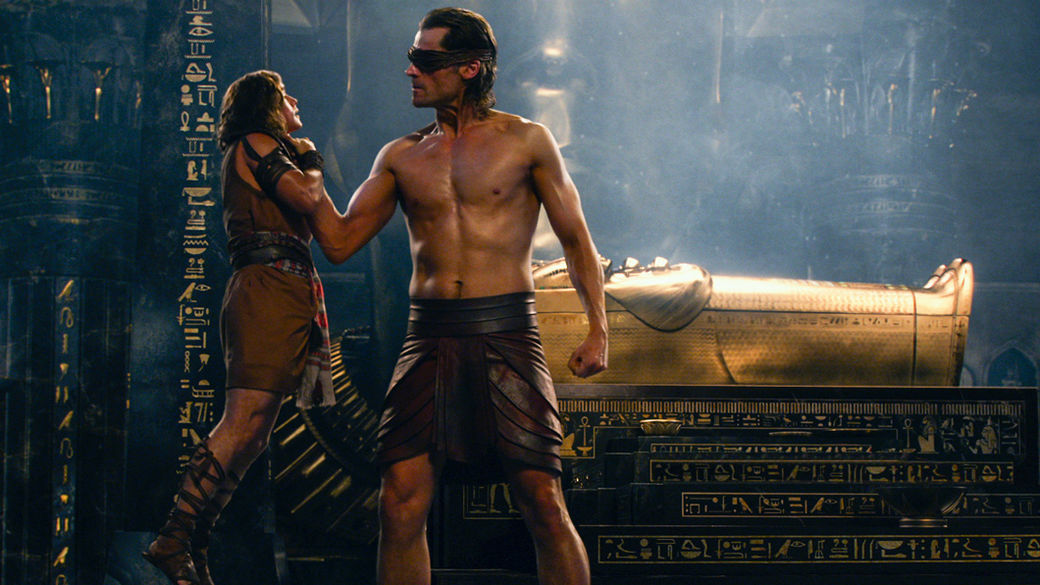 The much-talked about and apologised-for mainly Caucasian ensemble cast fail to rise above the mediocrity of the material given, with most if not all failing to muster the depth or gravitas the script demands of its characters – characters that are written very flatly in the first place.
Those who so vehemently attacked the film for its casting should feel very smug about themselves. If these casting decisions are setting a worrying precedent – and they are – then Gods of Egypt is no threat to the notion of a fair and representative Hollywood, because, quite frankly, it's awful and no one in their right mind can take it seriously.