A Million Ways to Die in the West: Roaring McFarlane Comedy
Amanda Seyfried

Charlize Theron

...

Action & Adventure

Comedy

...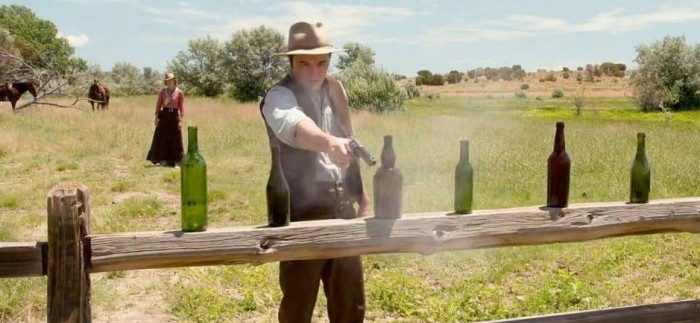 Following, relative success with Ted, starring Mark Wahlberg, Family Guy creator, Seth McFarlane, returns to the big-screen with a very McFarlane take on the Wild West, in the exceptionally funny black-comedy western, A Million Ways to Die in the West.
The story is set in Old Stump, Arizona, circa 1882 and follows the cowardly Albert Stark (McFarlane); a poor and clumsy sheep farmer who just got dumped by his long-time girlfriend, Louise (Seyfried), in favour of Foy (Harris) – a vain businessman and the owner of the town's local moustachery.
Disheartened and depressed, Albert – someone who doesn't possess the bravado or the gun-slinging skills needed to survive in the west – turns to his best friends, Edward (Ribisi), a celibate church-goer, and his prostitute girlfriend, Ruth (Silverman), for some much-needed advice. He is desperate to get her back, but Louise, who wants more out of life, doesn't want anything to do with him, leaving Albert feeling completely heartbroken and alone.
However, his troubles soon ease up with the arrival of Anna (Theron); a mysterious new-girl-in-town who offers to help him get his girl back. The two soon bond over their mutual hate for the west and after a couple of exhausting gun-shooting lessons, Albert is ready for the final pistol showdown with Foy; a mission he thoughtlessly agreed to in a moment of pure rage.
Mr. McFarlane's deadpan sarcasm and R-rated humour, his latest onscreen escapades – this time taking him out of his animated comfort zone – will certainly please fans. All of the jokes – minus the consisten fart gags and the never-ending diarrhoea references – are timed exceptionally well in terms of flowing with the scene-to-scene narrative of the film.
Produced, written and directed by the man himself, McFarlane also takes on the lead role and ends up delivering a relatively likable performance as the gawky and whining Albert, who often describes the life in the west as "anything that's not you is out here to kill you." However, it's the heavy-weight cast, which includes Neeson and Theron, who give the film weight.
Ruthlessly funny, startlingly bloody and awfully entertaining, A Million Ways to Die in the West is far from perfect, but it is fun and it could quite possibly be one of the best comedies of 2014 thus far.