As Above, So Below: Weak, Over-Written Horror Flick
Ali Marhyar

Ben Feldman

...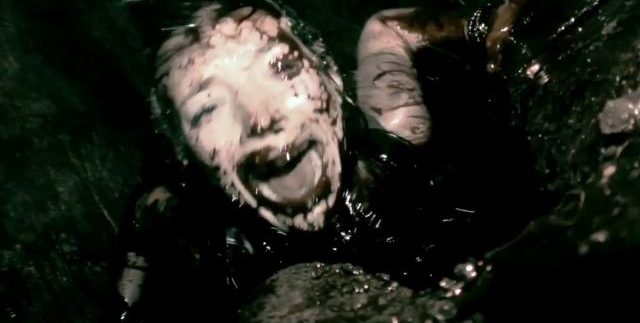 Riddled with a long line of groundless and senseless ideas, As Above So Below – the latest entry to the exhausting found-footage horror sub-genre – is heavy on the mood, but short on everything else.
Centred on the myths behind the Catacombs of Paris, As Above So Below follows enthusiastic archaeology professor, Scarlett Marlowe (Weeks), who is desperately trying to get her hands on a magical rock, capable of turning metal into gold, called the Philosopher's Stone.
Starting off in Iran, Scarlett soon finds herself on the streets of Paris, convinced that the stone – which she's trying to retrieve in order to honour her late father's wish – lies hidden somewhere in the Catacombs under Paris. Eager to begin her mission, Scarlett soon reaches out to old flame, George (Feldman), for help as well as documentarian, Benji (Hodge), and a random Parisian explorer, Papillion (Civil), who offers assistance with navigation.
Going into the Catacombs, the team soon begins its search for a long hidden passage that is supposed to lead them to the mythical stone. However, as they start going deeper underground, strange events begin to take place and if they are ever to reach their destination, the team will need to battle the darkness around them that seems to thicken with every step they take.
No matter how sound your idea may look on paper, the key is execution. In the case of this latest found-footage debacle, it is unfortunately, very poor indeed. The power of the mood, although relatively strong and effective, is weakened by the film's crammed premise which sees plenty of random ideas thrown around without any explanation or point.
Luckily, the cast manages to weather the faults and offer a few relatively convincing performances. Weeks, as a woman who will stop at nothing until she gets what she wants, is persuasive; Mad Men's Feldman keeps things relatively grounded, and Civil – a somewhat unknown French actor – offers just enough energy to keep things interesting.
However, it's the writing that is at fault here. Chilling, but not enough to make your blood run cold, As Above So Below is terribly confusing, contrived and awfully claustrophobic and if it wasn't for its somewhat underwhelming – and seemingly abrupt – finale, things might have turned out differently for this part Tomb Raider part Blair Witch bag of fables and scares.