Bagman: To Catch a Washington Lobbyist
Barry Pepper

Jon Lovitz

...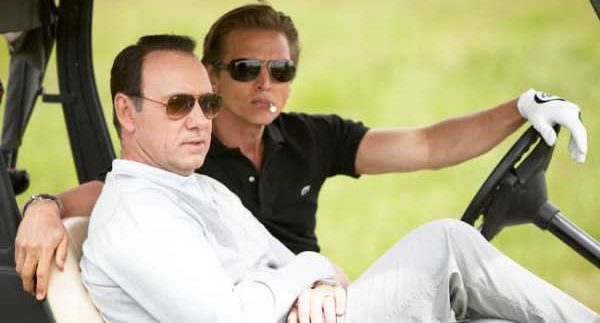 Bagman dramatises the rise
and ultimate demise of real-life Washington
D.C. lobbyist Jack Abramoff
(Spacey). If you can't tell the difference between a Republican and a Democrat;
you should probably skip Bagman, which
has oddly been distributed everywhere else in the world under the name of Casino Jack.
The scandalous tale of Abramoff is the perfect fodder for the front pages of newspapers. It shows an overzealous cog in the political machine who uses the
system for his own financial gain. Abramoff justifies his actions through a
speech to his reflection in the mirror, simply stating that he isn't willing
to succumb to mediocrity, which in his opinion is where most people stand. His
ambition and greed lead him in a downward spiral, as he defrauds Native American
tribes out of millions of dollars that he then invests in a floating casino.
While
the labyrinthine nature of the story could easily fill the pages of The Washington Post; it doesn't
necessarily make for a compelling film. On the plus side, Bagman finds
a balance of covering all the nitty-gritty political details without losing
sight of the drama at hand. Abramoff himself was a Hollywood
producer at one point, and part of his showmanship M.O. is reciting classic film quotes at every opportunity. He even teaches screenwriting to his prison inmates
by illustrating the classic story structure, which is exactly how Bagman tackles the narrative; through an
unexciting formula.
This is Spacey's one-man-show where he gets to flaunt his thespian
muscle, and he imbues his character with enough charisma to carry the weight of
the film. His efforts are the main attraction and the sole reason why Bagman packs a decent punch. Spacey has
a lot of fun portraying Abramoff's inflated sense of ego and his endearing antics;
and he offsets the dry Washington
backdrop with a comedic twist.
Ultimately, Bagman is a
political drama with enough satirical elements to make it easy to swallow. However,
there is something missing in Bagman,
something that makes great films tic and keeps them from falling into mediocrity: a will to challenge.