Bait 3D: Shark Bites Holes in Plotline
Julian McMahon

Sharni Vinson

...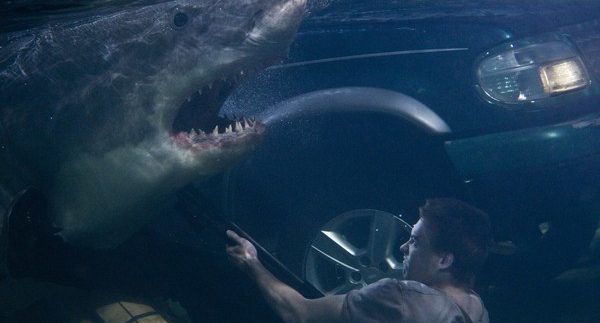 Once again, it is safe to say that the best shark-attack film ever made is Jaws, directed by Steven Spielberg back in 1975. With no computer-generated special effects at his disposal, Spielberg still successfully managed to leave the audience terrified and perked on the edge of their seats. Bait 3D succeeds in doing the same, but this time, the only reason that the audience is sitting on the edge of their seat is because they are desperately looking for the 'exit' sign.
One year has passed since Josh (Samuel) failed to rescue his buddy from the deadly grip of a Great White shark while on life-guard duty at the sandy beach in Queensland, Australia. Down in the dumps over the loss of a friend and over the break-up with his girlfriend Tina (Vinson), whom he proposed to not so long ago, he now part-times at the underground local supermarket stacking shelves. Soon enough, he runs into Tina, whom he hasn't seen ever since the tragedy, and her new boyfriend Steven (Qi).
Meanwhile, rebellious adolescent, Jamie (Tonkin), in order to get the attention of her cop father Todd (Sacks), practices some innocent shoplifting- all at the expense of her boyfriend Ryan's (Russell) job. In addition, a bickering couple find some 'alone time' in the underground parking lot and a couple of muggers hit the store. Soon, a fatal Tsunami strikes the coast, flooding both the parking lot and the supermarket. The few survivors are now left to find their way out, whilst battling the twelve-foot man-eating shark that the Tsunami mysteriously washed in.
Director Kimble Rendall's Bait 3D is filled with redundant sub-stories and gaping plot holes. The love for the characters is non-existent and no one really cares whether any of them survive or not. It's rare to come across a shark-slasher film, where not a lot of 'slashing' takes place; Bait 3D produces a lot of close-shaves, but doesn't really deliver the anticipated death toll.
The superfluous cast, who pretty much spend the entire film sitting on top of the supermarket shelves and refrigerators –which are mysteriously still running, even after the main power has been switched off – bring on the most painful and stiffest performance. The 'horror' that is upon them never really registers on their face and their appalling dialogue comes across in a rather questionable and disturbing Australian accent. The 'flooded' parking lot, located under the supermarket, is only partially flooded, and the submerged cars are somehow completely watertight after the flood.
How much effort was really put into this motion picture? Not much. Instead of giving a memorable and a frightening 3D experience, Bait evokes nothing but disbelief that a film this bad could exist.