Blackhat: Michael Mann's Poor Run of Form Continues with Flat Action-Thriller
Chris Hemsworth

Leehom Wang

...
The month of January – as far as the movie business goes – is regarded to as a 'dump month' or 'cesspool', where some of the most disappointing features of the year are innocuously seeped into cinemas. Michael Mann's latest feature, Blackhat, is one of said disappointing features.
It all starts with a mysterious cyber-terrorist attack on a nuclear plant in China, which not only causes a near meltdown, but also manages to drive up the price of soy with the cagey and the enigmatic hacker pocketing millions as a result.
Enlisting the help of a computer-wiz, Chen Dawai (Wang), both the Chinese and U.S governments are eager to locate the hacker before he gets a chance to strike again. However, Chen is unable to do the work alone and soon asks for the help from his old MIT classmate, Nicholas Hathaway (Hemsworth); a masterful computer genius who is currently being held behind bars in a U.S federal penitentiary.
Pulled out from prison to assist the mission, Hathaway's movements are closely watched by F.B.I agents, Carol Barrett (Davis) and Mark Jessup (McCallany). Joining the team is Chen's sister, Lien (Tang) – the only person Chen can really trust – and soon, the group finds themselves embarking on a trek around the world to locate the 'Blackhat' hacker.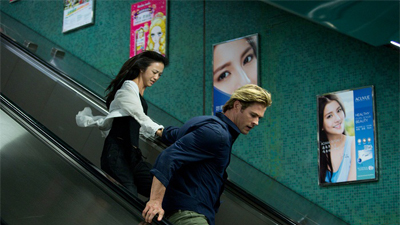 Michael Mann has been entertaining audiences for over thirty years with films such as Heat and The Insider paying testament to his largely unanimous standing as one of the greatest directors of all time. However, his distinct voice and style hasn't been quite as potent in recent, as can be seen in his last two directorial efforts, 2009's Public Enemies and 2006's Miami Vice.
Sadly, Blackhat continues the disappointing run of form; derivative, one-dimensional and peculiarly tension-free, everything about Blackhat feels under-developed. Full of clunky, tech-heavy gobbledygook, the the banal dialogue fails to bring any sense of reality to a plot that already lacks originality.
Marooned in the middle of the flimsy script is hunky chunk of brawn, Chris Hemsworth, who fails to really register as the only A-lister in a film that is decidedly B-list. A competent leading man for Hollywood action, his character is riddled with the kind of anti-hero cliché that was scoring big numbers at the box office in the eighties. In fact, that's a perfect summation of Blackhat; a tiresome and commonplace action flick that just isn't even in the same league as the Bournes and 007s of today.