Brave: Beautiful, Enjoyable, Unremarkable
Billy Connolly

Emma Thompson

...

Brenda Chapman

Mark Andrews

...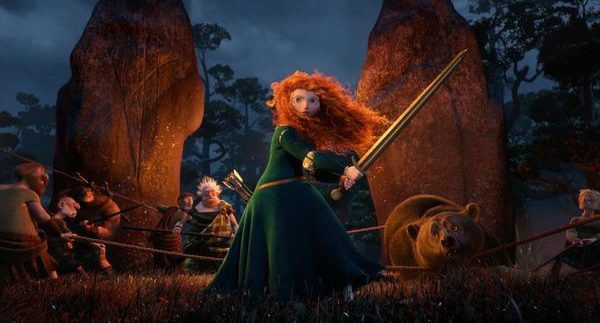 Merida,
a Scottish princess who is freed of her mother's tutelage and nonstop criticism
for a few days, decides that she's finally had enough when her mother decrees
that it's time for her to shoulder some responsibility. As tradition dictates,
and in order to keep the peace between the four clans over which her father
rules as king, the eldest born sons of the other clan leaders will compete for
Merida's hand in marriage.
To
save her freedom, Merida escapes and buys a spell from a barmy looking witch
that's supposed to transform her mother into caring less about decorum and
propriety. Unfortunately, the spell backfires and marriage becomes the least of
Merida and her mother's problems.
Think
of Pixar and a bunch of adjectives along the lines of 'perfect' and 'magical' will
probably float into your head. It's a testament to their quality and
consistency that one generally approaches their productions with high
expectations and leaves with them exceeded further. This however, is not the
case with Brave. Had it come from any
other studio, Brave would have been
lauded as highly enjoyable, beautiful, hilarious, etc. and it is all that; but
compared to Pixar's other films, you can't help but be a bit disappointed.
Brave lacks that magic spark that characterises Pixar's
best films. It will certainly entertain you – laughing, gasping and crying on
cue – but once it's over, the details trickle away and you're left with a shell
of a film; one that isn't all too different from the Disney princess stories, only
without the benefit of the nostalgia or catchy songs that made them classics. Brave also feels a bit too neat and
easy; the emotions that are usually drawn so effortlessly in Pixar films, feel
slightly forced; the stakes aren't high enough and there's never a doubt in
your mind as to whether or not Merida will triumph over the odds.

And
while Merida was obviously designed with a modern day, girl-power outlook in
mind – with the archery and I-want-my-freedom spiels – the same themes have
already been canvassed over and over again. Both princesses Jasmine and Ariel
have already done the rebellious royal thing. And when it comes to being
handy with a weapon and being able to rough it in the wild, Mulan had that down to a tee.
Merida,
engaging as she is, brings nothing new to the table – except for her hair which
is glorious and enough justification for the film. Animation wise, it's more
eye-popping than Rapunzel's hair in Tangled,
which was practically a character of its own. The rest of the film looks as
good as you'd expect of Pixar and the depiction of Scotland with tapestries,
forests and costumes is wonderful. The only issue we have with the visuals is
that the wisps (magical, blue, luminescent orbs) look like something out of a
video game, as do the sequences in which Merida follows the trail marked out
for her by them – which is distracting. The voice work, however, is top notch
and the cast is filled with plenty of the UK's finest, including Emma Thompson,
Julie Walters and Robbie Coltrane.
Brave is good but not great the way it should have been.
It's like Pixar took more from Disney than just the idea of a princess
protagonist and lost some of what made them so special along the way. Still,
Pixar's middling towers above most other films, animated or not.