Cold in July: Intensively Immersive Thriller
Don Johnson

Michael C. Hall

...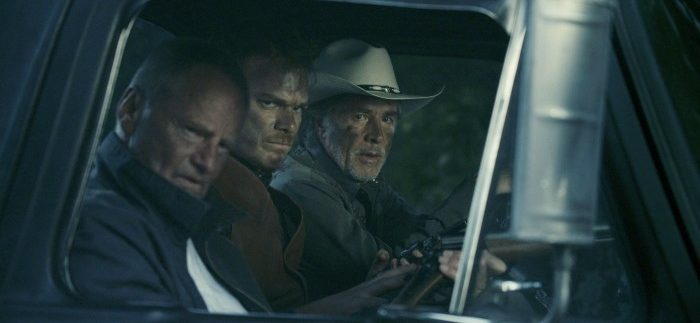 The tension and atmosphere is palpable in Jim Mickle's latest genre-bending thriller, Cold in July; a riveting and a deliciously twisted adaptation of Joe R. Lansdale's crime-novel of the same name.
Set against a Texan backdrop, Cold in July takes place in the early 80's and centres on a man dealing with the shock of having killed an intruder in his own home. Richard Dane (Hall) is a quiet and a good-mannered frame worker who live in a small town with his wife, Ann (Shaw), and their young son, Jordan (Hall).
His relatively mundane, but happy, life is sent into turmoil after the deadly confrontation. Despite being assured that the man he shot and killed was a wanted felon, his guilt pushes him to visit the cemetery in which his victim is buried, where he comes by the deceased's father, Ray (Damici); a paroled convict who seems intent on avenging his son's death.
If you've already had the pleasure of watching Jim Mickle's efforts in the moody and the somewhat unconventional 2013's thriller, We Are What We Are, then you probably already know what to expect from the director's fourth entry.
Following three unconventional horror films, Jim Mickle manages to channel his bloodcurdling standards into something much more grounded without losing his penchant for the unsettling.
Grim, edgy and full of unpredictable twists and turns, Cold in July keeps its audience on its toes the entire way through. As the two main characters begin to interact, things become much more complicated and a potential case of mistaken identity propels the plot into more than just a revenge mission. Just as you think the leads figure out a piece to the puzzle, the story takes a new direction altogether.
Deeply-layered and underlined with a sense of unpredictability throughout, one of Cold in July's biggest assets is the stellar performance of its cast, who, collectively, manage to keep the story authentic amidst the twists and turns. Leading the way is Hall, who is convincing as an everyman caught up in a violent world; Shepard is his usual fantastic self while Johnson – who comes in a little later into the story – is infectious as a detective with quintessential Texan predilections.
While this film is unlikely to make a huge mainstream impact, it serves as another example of Jim Mickle's terribly underrated directorial prowess. Its slow, broody build-up doesn't sit comfortably in the scope of modern thrillers, but given time, it unfolds into a unique piece of filmmaking that will linger with you for days, maybe even weeks, after the credits roll.