Contraband: Incomprehensible Action Film about Smuggling
Ben Foster

Giovanni Ribisi

...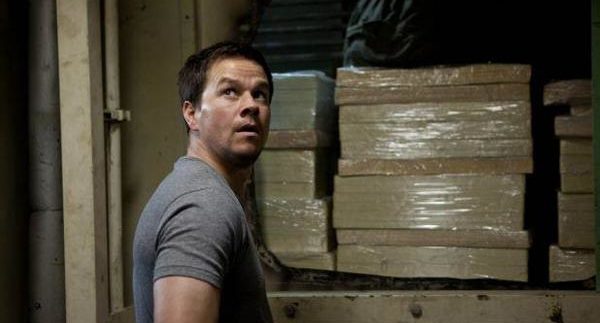 Chris (Wahlberg) is a retired, world-class smuggler. Succeeded by his
highly incompetent brother-in-law, Andy (Jones), he's dragged back into the
game again when Andy's run goes horribly wrong and he ends up owing the local
kingpin, Tim (Ribisi), a rather large six-figure sum of money. With Tim vowing
to murder Chris' whole family if he doesn't get his money back in two weeks,
Chris is forced to undertake the biggest operation of his life to save his
family. He and Andy board a ship to Panama to smuggle a van's worth of
counterfeit bills back to the US without being caught by either the ship's
captain or customs in order to save Chris' wife Kate (Beckinsale) and their two
kids.
Contraband's
biggest problem is that Chris, a renowned smuggler, seems to get by on sheer
luck rather than on any type of prodigious skill. His shtick consists of trying
to finish whatever he's doing before anyone passes by and by the time Chris
reaches Panama, the film has basically devolved into one giant race against the
clock. Even worse, this is the film's main source of (non-existent) tension. On
those rare occasions when he does do something inventive, though; the details
are glossed over and you barely understand anything about his brainwave.
All throughout the film, Chris is referred to as a Houdini, seriously
building up the anticipation for some artful smuggling, yet whatever he does is
practically incomprehensible. As a viewer, you're forced to go along with the
film, hoping that things will be clarified somewhere down the line, but honestly;
things just get more confusing.
What the film lacks in smarts and clarity, it's barely able to compensate
for in fun. The soundtrack works quite well and is, admittedly, pretty cool and
Wahlberg's usual bad-boy routine is quite entertaining. On the other hand,
Ribisi is more unhinged than menacing and is reminiscent of a kid playing
tough. Diego Luna, who plays a Panamanian mob boss, does a much better job of
blending insanity with a threatening presence, and he ends up being the highlight
of the film. He camps it up in the film as he beats up, freaks out and kills a
few dozen people while showing just how completely aware he is of how
ridiculous and sub-par this film is.
The fact remains that Contraband is very, very average. It's an
adequate way to kill some time if you're in the right frame of mind for some
mindless entertainment, though it's not much use for anything else.