Date Night: Fey and Carell Joined in Wacky Matrimony
Mark Wahlberg

Steve Carell

...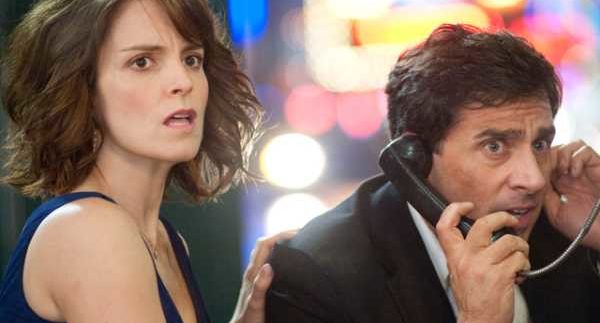 The very personable Tina Fey and Steve Carell are both
comedic tycoons of this era, so it was only a matter of time before the two would
team up. Their successful careers are hard earned and long overdue after years
of hard work.
Both play the leads in a successful NBC sitcom: Fey created her
self-referential 30 Rock based on her
time as SNL's head writer, and Carrell
stars in the American version of The
Office. Both shows rewrote the book on comedy. So does pairing them
together work? Absolutely. If it wasn't for their undeniable chemistry and
comedic chops, Date Night would have
amounted to nothing more than a big, flat splash.
Date Night
opens with the Fosters; a committed couple worn out by the status quo. Their
marriage has withered to a laundry list of daily routines, even their once- a-week
date night is now a burden, where they have to go through the same motions over
and over again. Fed up with the monotony, the married couple embarks on an
impulsive binge with some zany results.
Driving away from their New Jersey suburb to a trendy
fish restaurant in NYC only to find it fully booked, the Fosters spontaneously claim
someone else's reservation. It turns out that the table was booked to a
nefarious couple attracting some serious heat. What follows is a
paint-by-number mistaken identity scenario– think Dumb and Dumber, only condensed into a single night.
We get to meet a rotating cast of supporting
characters played by Kristen Wiig, Mark Ruffalo, James Franco and Mila Kunis,
as well as a hunky, shirtless Mark Wahlberg, who, in the movie's funniest
running joke, is perpetually pleaded to put a shirt on.
Director Levy bought us the Night at the Museum films, and didn't set out to make a laughing
riot with this film. Date Night's humour
is more slice-of-life with economically distributed laugh-out-loud moments. Between
the laughs and the thrills, there are surprisingly earnest scenes of
reconciliation; the movie's saving grace next to the lead performances. Equally
interesting is the choice to shoot the film on Hi-Def as it gives it this
subtle grittiness and sense of realism, putting it a cut above your average
trite comedy.
Comedies aren't exactly known for their envelope-pushing
narrative, but you would expect something more substantial from Fey and Carell.
Your best bet for a hearty laugh right now, Date
Night might leave more to be desired, but it will most certainly leave a
charming impression.