Deliver Us from Evil: Eerie Crime Thriller
Édgar Ramírez

Eric Bana

...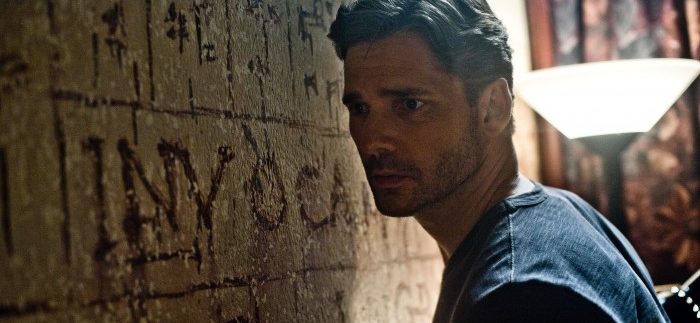 Steering clear of the found-footage craze, Deliver Us From Evil – inspired by the real-life events of retired NYPD investigator-turned demonologist, Ralph Sarchie – strikes the right type of mood and benefits from a group of dedicated actors who bring this otherwise predictable and conventional story to life.
Set in New York City, Deliver Us From Evil is centred around NYPD Sgt. Ralph Sarchie (Bana); a dedicated man of the law who is known for his acute radar for bad vibes. Appointed to a special division, Sarchie spends most of his days away from home – away from wife, Jen (Munn), and daughter, Christina (Wilson) – and spends his time patrolling some of the roughest parts of the City, along with his knife-loving partner, Butler (McHale).
His sixth-sense for the supernatural soon leads them to a string of domestic abuse cases, in which children are involved in each. None of it makes sense, but Sarchie and Butler soon discover that all of the cases are linked to three recently dishonoured marines – Jimmy (Coy), Mick Santino (Harris) and Lt. Griggs (Johnsen) – who have just returned from Iraq.
Soon, Sarchie befriends mysterious Catholic priest, Mendoza (Ramirez); a booze-loving Christian who has spent his life chasing demons and performing exorcisms. Mendoza believes there's something bigger at play. As a non-believer, Sarchie has a hard-time buying into the premise, but his mind soon starts to change when he pairs up with Mendoza in order to find and unlock the source of the mystery before further evil can spread.
It's always refreshing to see a horror film free of the found-footage approach. Scott Derrickson – see The Exorcism of Emily Rose – manages to do just fine without the overly-used tactic and creates a satisfyingly eerie and inviting atmosphere.
But while there's plenty of blood and gore, the scares are surprisingly few and far between. Additionally, the writing, which tries hard to build a strong case behind its demonic mythology, is relatively simple – even though it tries its best to come across as intricate and complex.
Luckily, Bana is there to pick up the pieces as the persuasive and relatively compelling cop who, despite his strong denial of demons and evil spirits, is eventually forced to look at the world with a new set of eyes. As Sarchie's loyal sidekick, McHale is the source of the movie's subtle comic relief while Mendoza shines as the eccentric priest.
All things considered, Deliver Us From Evil is a satisfying horror. The scare-o-meter is relatively low but that doesn't mean the experience is any less frightening.