Dirty Grandpa: What the Heck is De Niro Doing?
If you're idea of 'funny' is watching Robert De Niro making a complete and utter fool of himself as a filthy and foul-mouthed senior on a 'life-changing' journey sexual pursuits, then Dan Mazer's Dirty Grandpa is a must see. However, if you would rather spare yourself the torture of having the image of the legendary, Oscar-winning actor tarnished for good, then you are advised to look for your dirty laughs elsewhere.
The story is centred on Jason Kelly (Efron); an uptight corporate lawyer who, having given up on his dreams of one day becoming a renowned photographer, is now – rather begrudgingly – working for his controlling lawyer dad, David (Mulroney). When his grandmother dies from cancer, his grandpa Dick (De Niro) – a retired military mechanic whom Jason was really close to as a kid – decides to guilt his grandson into driving him from his home in Atlanta, Georgia down to Florida, so he can honour and fulfil his late spouse's dying wishes who has asked him to let loose a little.
Only a week away from his essentially arranged marriage to the beautiful but bossy Meredith (Hough), Jason – not wanting to disappoint his recently widowed grandpa – reluctantly agrees. However, he soon discovers that Dick has other reasons for their little road trip, when, after running into a couple of Jason's friends old from college – including the promiscuous hottie, Lenore (Plaza) – Dick persuades Jason to take a little detour through Daytona Beach; a popular spring break spot for college students, where he can do some serious skirt-chasing and, yes, get laid.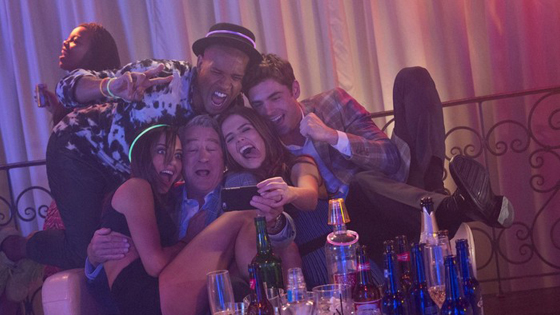 Dirty Grandpa – directed by Borat producer Dan Mazer and first-time screenwriter John Phillips – is neither funny nor smart and watching it unfold on the big-screen is a grating, painful experience. Instead of focusing on offering quality laughs, the film seems more interested in shocking throughout its one-hundred-minute runtime, which include a never-ending stream of racial slurs, genital-based humour and profane-filled one-liners that seem to be on the repeat for most of the movie.
Robert De Niro – in what has proven to be one of his worst roles of his career – is, well, very unlike himself and while some might find his sex-crazed and dirty-mouthed ways novel and, dare we say, entertaining, there will also be many of those who will feel nothing but embarrassment for the seventy-two-year old actor. Efron, meanwhile, is Efron and spends most of the time shirtless.
It's a rather tiring experience and while its particular brand of toilet-humour has its audience, the sloppiness and the lack of trying in Dirty Grandpa is almost insulting.