Dr. Seuss' The Lorax: Animated Musical With Eco-Friendly Message
Danny DeVito

Taylor Swift

...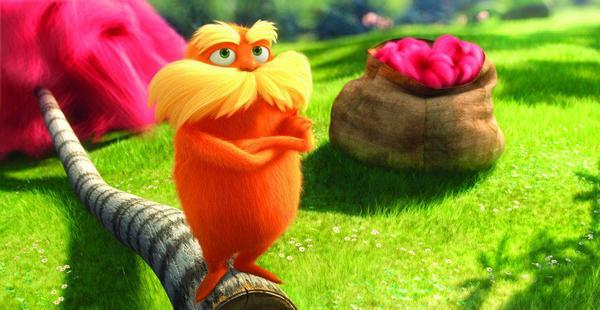 Thneedville is a 100% synthetic city. The air quality is awful, trees
are a thing of the past and the sale of bottled purified air is booming. What's
more, people actually like it that way because they've been brainwashed into
thinking that nature is an enemy by a billionaire who managed to turn air into
a product.
Ted is a twelve year old with a crush on Audrey. When she expresses her
wish to see a real live tree he vows to make it happen to gain her affection.
He ventures outside of town to visit the Once-ler, the only person with any
knowledge of what happened to the trees and how he could possibly find one. Ted's faced with two challenges; convincing the reclusive Once-ler to
tell his story and steering clear of the aforementioned billionaire who sees his newfound interest in trees as a threat to his financial prospects.
The Lorax is a not-at-all-veiled
critique of capitalism and materialism to the point where you're blind to
anything that isn't actively contributing to your bank account. While it does
get very preachy towards the end, the film does a pretty good job of conveying
the idea simply and entertainingly through the Once-ler's story. It also has
some pretty awesome points that may fly over the heads of kids such as a scene
in which some advertisers pitch Mr O'Hare (the guy who owns the bottled air
company) an advert which is a parody of every other advert that relies on sex
to sell their product. And in fact the whole selling air aspect seems weirdly
prophetic in a way, and not entirely implausible. Living on bottled water was
probably an outlandish concept at one time too.
The titular character, the Lorax, voiced by DeVito, doesn't have much
screen time but as far as importance goes, he's the film's conscience.
Technically, he acts as the spokesman/guardian for the trees. He appears when
the first tree is cut down, runs around trying to guilt trip people into
leaving the rest alone then disappears when the last tree is chopped. DeVito,
despite having an instantly recognizable voice, does really well with his
character unlike Efron who in a truly baffling casting decision, voices a
twelve year old. Apparently kids in Thneedville sound just like grown men.
Anyway, the film generally lags whenever Efron and Swift's characters are on
screen but it isn't really through any fault of their own. The two main
characters are barely fleshed out and their main function is to act as a pot
device to get us to the Once-ler, whose tale is infinitely more
interesting.
Visually, the film looks good but isn't outstanding. The bits in which
the Once-ler recounts his tale of when trees still existed are really pretty, though the trees look more like coloured candyfloss than anything we'd recognize as a
plant. And while Thneedville looks good, it has this very fitting, eerie vibe
to it, what with the remote control trees and inflatable hedges and all. The
film's strongest point though, happens to be the many musical numbers,
something the trailer managed to completely conceal. They're fun, infectious
and really catchy.
Ultimately The Lorax is pretty
cute. It starts off with a great musical number introducing us to Thneedville
and the general environmental problems and it's only the frequent musical
numbers that prevent the film from becoming downright boring. Either way, it's
great to see a movie preach a message like this even if it isn't entirely
successful.