Dumb and Dumber To: Harry & Lloyd Reunite For Goofier Sequel
Bobby Farrelly

Peter Farrelly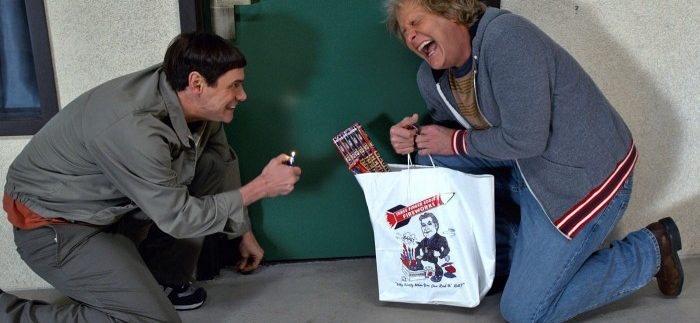 It was exactly twenty years ago that likeably goofy duo, Harry and Lloyd, won the hearts of many in the incredibly daft but entertaining comedy, Dumb and Dumber. Having cemented their place in Hollywood cult history, the friends return in Dumb and Dumber To; a follow-up that's relatively entertaining, but nowhere near as memorable as its adored original.
Following the heartbreak of his unrequited love for Mary Swanson, Lloyd (Carrey) has spent the last twenty years in a mental hospital, completely withdrawn and in an unresponsive state. Best pal Harry (Daniels) has continued to visit him, but it's not till he brings bad news that Lloyd snaps back into life – that news being that Harry is in desperate need of a kidney transplant.
After finding dead-ends every which way that they turn, they soon discover a long lost letter from former lover, Fraida Felcher (Turner), informing Harry that she was pregnant with his child, whom, as they soon find out, has been given up for an adoption. Excited that they might be able to find that donor after all, the reckless twosome soon hit the road in order to find Harry's daughter, Fanny Felcher (Melvin), and quite possibly, the kidney that will keep Harry alive.
Fans of the original 1994 release will probably be excited most by the sequel, which is once again directed by the Farrelly brothers and scripted by the same writing team.
Both Carrey and Daniels seem happy to reprise their roles as the brainless but lovable best-friends and throw themselves into it wholeheartedly. Unfortunately, the material isn't all that fresh and the script fails to take into account that the world of Hollywood comedy in 1994 is miles away from what it is now.
Subsequently, the whole thing feels far too slapstick and, though that was the general M.O. for the first film, it feels dated – and quite frankly, crude – in 2014.