Earth to Echo: Innocuous Sci-Fi Family Adventure
Brian 'Astro' Bradley

Ella Wahlestedt

...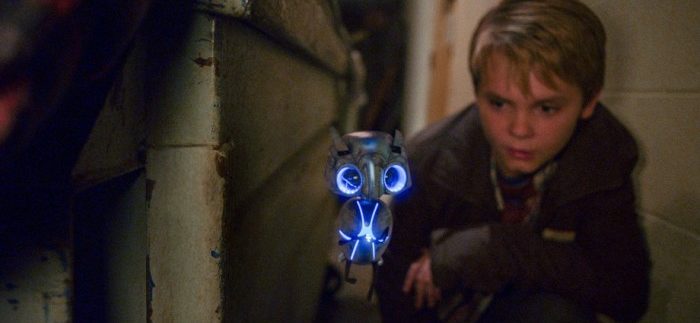 The spirit of Steven Spielberg's E.T: Extra-Terrestrial is very much alive in Dave Green's directorial debut, however, thanks to its limited sense of creativity and originality, the end-result, unfortunately, fails to impress.
Written by Henry Gayden, the story is set in a small Nevada town and follows the adventures of three young friends; foster child, Alex Nichols (Halm), avid YouTube addict, Tuck Simms (Astro), and tech-savvy Reginald "Munch" Barrett (Hartwig). Thanks to the government plans to build a new highway – that's to run straight through their neighbourhood – the boys and their families are facing eviction. As they are not ready to say goodbye to each other just yet, they are desperate to look for a way to keep their homes.
After realising that disruptions on their mobile phones – showing strange images and text – kick in at a certain point in the neighbourhood, they realise that one of the images looks like the map of a desert nearby and hatch a plan to ride out there.
They soon stumble on a strange piece of scrap metal – which they initially mistake for satellite debris – and later discover a small and extremely timid alien-being, who looks hurt and terribly lost. Amazed and intrigued by their new discovery, the boys need to keep shifty government officials at bay and help their new friend – who they soon name Echo – find his way back to his mother-ship and return home.
Strong influences from films like J.J Abrams' Super 8 and Richard Donner's The Goonies can also be found in Dave Green's directorial debut. Though this homage, if you will, infuses the film with a genuine sense of adventure, there's only so far one can go before it's considered downright mimicry. Similarly, the found-footage format is a little too demanding; shaky, incoherent and perhaps even a little aggressive, it ends up leaving room for gigantic plot holes.
With that being said, however, the cast of unfamiliar faces manages to keep the ball rolling, despite the story's palpable shortcomings. Comparably, the special effects used to create Echo, and his big, blue, sad eyes, are incredibly endearing and the little earth-bound creature is almost impossible to resist.
Borrowing heavily from 80's family-movie masterpieces, Earth to Echo is a fairly entertaining tale of adolescence. Unfortunately, however, it is also a story which is completely impeded by sense of familiarity and by its endless abuse of the dead-in-the-dirt found-footage format.