Easy A: A Winning High School Comedy
Amanda Bynes

Emma Stone

...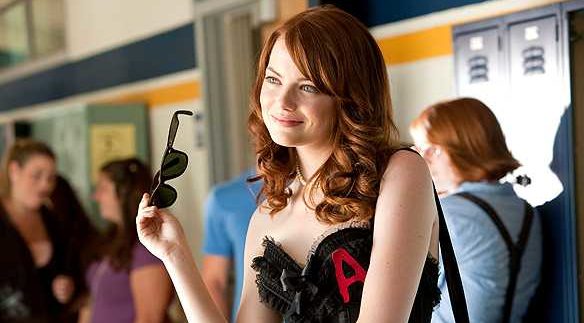 A pleasantly surprising gem of a film, Easy A pays homage to classic 80s and 90s high school comedies– a
genre that John Hughes pioneered with his sweet and sentimental coming-of-age
flicks– while giving the dynamic a fresh spin of its own. Easy A is fun and bubbly without regressing into moronic teenage
conventions; and for that, the film becomes a charming new classic for the Facebook
generation and a witty heartfelt comedy.
Olive (Stone) is a low-profile student at a California
high school who was never the centre of attention. After rumors about her
fictitious sexual escapades spread around the school like wildfire, Olive takes
full advantage of the situation and does some good while she's at it. Pleased
with her newfound infamy, she adds more fuel to the gossip by pretending to
make out with nerds and school misfits to improve their reputations. In her mind,
it's a win-win situation, where these awkward guys get some Casanova cred, and
she can solidify her image as the school slut.
However, Olive's
notoriety soon crosses the line from bad-ass to just plain bad. And as her
image spirals out of control, she discovers that the harmless rumors that she
planted are beginning to have a negative impact, not only on her; but on the
lives of those around her.
The playful Emma
Stone nails the part of Olive with the right amount of earnestness mixed with
cartoonish physicality. She switches effortlessly between her raspy seductive
mode and her goofy bug eyed self in a blink, showing an amazing knack for
comedy that doesn't come at the expense of her glamour. She is a rare breed of
a funny yet confident girl that doesn't shy away from showing some vulnerability .
With countless girl-centric films downplaying the
intellectual capabilities of their leads (cough, Clueless, cough), Easy A
comes as an earnest love affair with a heroine that both genders can easily
relate too. It's not blatantly empowering for women, but a delightful and
level-headed account of teenage drama with strong comedic elements.