Edge of Darkness: Gibson Attempts to Regain Lost Glory
Danny Huston

Mel Gibson

...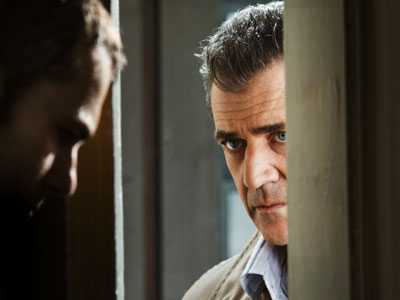 In
this mystery thriller directed by Martin Campbell, Mel Gibson plays a gruff
Boston detective grappling with the aftermath of losing his child. Part
gratifying action flick, part psychological thriller, part political commentary;
this film has a little bit of everything; yet it's not quite potent enough.
Craven
(Gibson) is a tough, trench-coat-sporting homicide detective, whose soft side
is only brought out by his daughter Emma (Novakovic). Following her sudden death,
Craven dives down the rabbit hole, unwittingly pulling the thread that
threatens to unravel a national nuclear weapons cover-up. The villains involved
are appropriately despicable and arrogant, keeping up the momentum of what
turns out to be a basic struggle between the good and the bad. The team of
villains, led by Huston as a slightly loony mastermind of the criminal chemical
plant and O'Hare as the agitated government accomplice, cracks a little too
easily under Gibson's gun, but still get in a few good lines along the way. Sanders also plays a fellow officer in an 'et tu brute' plot twist that we see
coming from afar.
The
role fits Gibson like a glove, as a veteran of the death stare, man-cry and
no-nonsense officer's gait. We watch the hero wade through levels of grief,
rage and revenge as he tries to put together the pieces of the crime. Winston
plays Jedburgh, a silver-tongued consultant hired to clean up the nuclear mess.
Contracted by the government but playing by his own rules, he slinks behind the
scenes, dispensing witticisms upon both friends and foes. The token Englishman
provides such prophetic gems as 'I've decided what this country is: people who
deserve better.'
The
characters of Craven and Jedburgh show the compassion and tenderness hidden
beneath the tough exterior of men who have loved and lost, while the script
takes digs at the U.S. government as a devious corporate overlord– it's hard to
say which is more important to the film's plot.
A
few too many similarities to The Departed
make this film falter slightly, although it has enough blood-pumping
suspense scenes and car chases to go down easily.