Edge of Tomorrow: Solid Action Performance by Cruise
Bill Paxton

Brendan Gleeson

...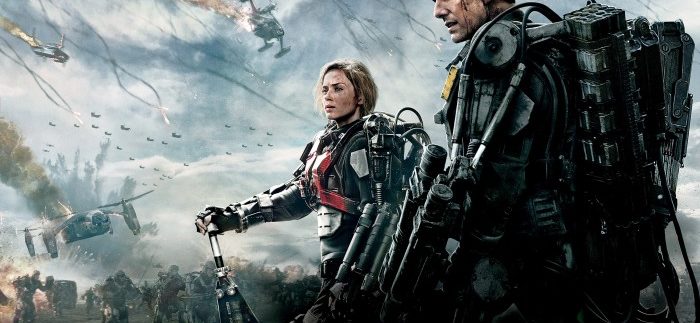 "Live, Die, Repeat" is the tagline of Doug Liman's latest sci-fi escapade, Edge of Tomorrow; an exciting and somewhat trippy alien adventure, which finds the enduring Tom Cruise on a Groundhog Day-like mission as he battles his way through an army of invading alien forces.
Set in the near future, Earth has been invaded by aliens called the Mimics; an indestructible extra-terrestrial force of invaders whose unique ability of resetting the day helps them foresee the combat methods used by their adversaries, and giving them a competitive edge in battle.
On the night before a specially-designed mission was due to take place, Major William Cage (Cruise), a haughty and skilful military public relations Officer, is called upon by UFF General Brigham (Gleeson), and ordered to report from the frontlines of battle. However, Cage – someone who has a low blood tolerance and a general distaste for war – refuses to follow orders and soon finds himself disgraced, arrested and placed under the command of Master Sergeant Farrell (Paxton).
Labelled as a deserter, Cage is soon sent into battle, but his squad is ambushed and killed by Mimics. Cage is shocked to find himself waking up the next morning only to live out the same day – and a gruelling death – all over again. His saving grace and the only way out of the loop is Rita Vrataski (Blunt); a Special Forces soldier who soon takes Cage under her wing and helps him acquire the technique and skills needed to fight the enemy.
Still considered one of the biggest box-office draws, Cruise is definitely in his element and delivers a solid performance as Major Cage. As the super warrior, Rita Vrataski, Blunt is equally likeable – her physical transformation definitely deserves a few nods – but the relationship between herself and Cage – which hints at more than just a teacher-student one – doesn't really work nor does it develop into anything the audience can really sink their teeth into.
Written by the Usual Suspects writer, Christopher McQuarrie, Edge of Tomorrow's edge, so to speak, is its Groundhog Day-like premise where the protagonist is forced to relive the same day over and over again. It makes for a clever setup and the Bourne Identity's Doug Liman manages to pull off each repeated sequence skilfully and efficiently, without coming off as forced or overworked. The special effects look polished and slick and the battle shield-armour used by the humans, as well as the Mimics themselves, are executed to perfection.
Well-paced and offering a few light-hearted comedic touches needed to weave together its repetitive premise, Edge of Tomorrow is not cutting-edge, but is exciting and makes for a fun and refreshing watch.