Exposed: Dirty Cops & Surreal Visions in Peculiar Thriller
Ana de Armas

Keanu Reeves

...

Action & Adventure

Thriller
Reason and common sense seems to have escaped Declan Dale's Exposed; a New York-set cop thriller, whose bewildering premise of dirty cops and floating angels – yes, you read that right – drains the story of any rationality or relatability. Told through two separate storylines, Exposed, to put it simply, is all over the place and while some of its ideas seem interesting at first, they quickly lose their way.
Set in the heart of NYC, Exposed tells the story of cold and aloof Detective Galban (Reeves returning to his usual robotic ways), who has been tasked with finding the killer of his partner, Detective Joey Cullen (Hoch). Found murdered in a subway station, Galban's digging into his partner's history soon reveals a shady past and close ties to the criminal underworld. Finding solace in the grieving arms of his partner's widow, Janine (Sorvino), Galban soon focuses in on the infamous drug kingpin, Black (Big Daddy Kane), who pleads his innocence.
Meanwhile, on the other side of town, young woman named Isabel (De Armas), a Dominican school teacher living with her in-laws while her husband is serving his country in Iraq, is seeing ghostly visions which have been haunting her ever since that night at the subway station when Cullen was murdered. Unsure of what they mean, Isabel tries to keep sane by focusing on helping one of her troubled students while her brother-in-law Rocky (Vargas), may know something about the crime that was committed on the subway tracks.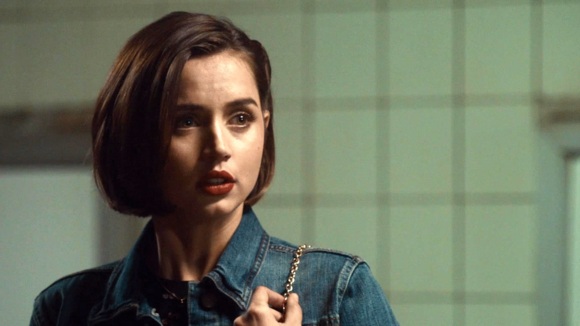 Unable to find a way to integrate and connect the two stories together, Exposed falls victim to an overwhelming narrative inconsistency and a troubling array of so-called-plot-twists which can be seen coming from a mile away. Originally titled Daughter of God and directed by Declan Dale – a pseudonym name for director Gee Malik Linton who actually walked away from the film after the producers radically went on to re-edit the whole thing – there's an affective sullen atmosphere established, though nothing of significance is built on it.
Moving at an extremely slow-pace, the film's troubled production is evident even in its final product; the original story was envisioned as a dreamlike sociopolitical drama only to be turned into a lifeless cop-thriller. The dramatic shift renders the film a bit of a confusing mess and the fact that it then rests on the shoulders of somebody as prolifically rigid and as featureless as Keanu Reeves doesn't help.