Frankenweenie: Touching Tale of a Boy and His Not-So-Dead Dog
Catherine O'Hara

Martin Landau

...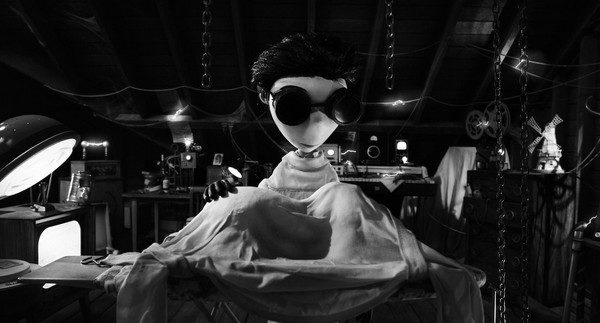 Tim Burton's life-long love affair with stop-motion animation began when he was a child. His current work has been strongly influenced by his childhood obsession with authors and cartoonists such as Dr. Seuss and Edgar Allan Poe. With his quirky and controversial approach to filmmaking, Tim Burton has set himself aside as one of the greatest and most innovative directors of our time.
Burton's true passion for storytelling lies in his animated features. The newest addition, Frankenweenie – an expansion on a short film he released back in 1984 – sits high and proud at the top of the list, being one of his finest animated features to date.
Enter Victor Frankenstein (Tahan), a lonely teen – and science geek – who has just lost his best friend; his dog Sparky. Devastated by the loss and inspired by his science professor, Mr. Rzkruski (Landau), Victor sets himself up with random utensils from around the kitchen and attempts to bring Sparky back to life via a lightning bolt.
His experiment proves to be successful and Victor is once again reunited with his best bud. However, due to the wacky nature of the experiment, Victor must keep his development a secret from both his parents, Mr. and Mrs. Frankenstein (O'Hara and Short), and from the rest of the New Holland community.
It's virtually impossible not to get emotionally attached to the characters – Burton makes sure of that. His soulful approach to Frankenweenie is apparent; the tale of a young boy's love for his dog is moving and goes a long way. This is exactly what Burton needed to recover from his latest box-office flop, Dark Shadows.
All the elements expected from a Tim Burton film are present; eccentricity, dark humour and last but not least, artistic quality. The mix of black and white filmmaking, stop-motion animation using elongated Gothic-style figures, his imagination and the added 3D aspect all mesh together beautifully, making the viewing highly entertaining.
As a leading man, and a possible future Burton collaborator, Tahan shows some real talent as the voice of Victor. His loving parents, played by O'Hara and Short, come off a little too ordinary, but shine in their supporting roles nonetheless. Ryder, the voice of 'the Gothic girl next door' pulls out all the stops for another of the more memorable performances.
The performance that really stands out, however, is that of Mr. Rzkruski, the mad Russian science professor. Voiced by Landau, the professor steals the show in the few minutes he's on screen.
His first attempt at Frankenweenie was shot down by Disney productions for being too spooky and ghostly for kids. Nevertheless, his patience and persistence paid off, and now, almost thirty years later, Frankenweenie can be truly cherished in all its glory. It's clear that Burton was too ahead of his time.