Furry Vengeance: Revenge of the Cute Forest Animals
Brendan Fraser

Brooke Shields

...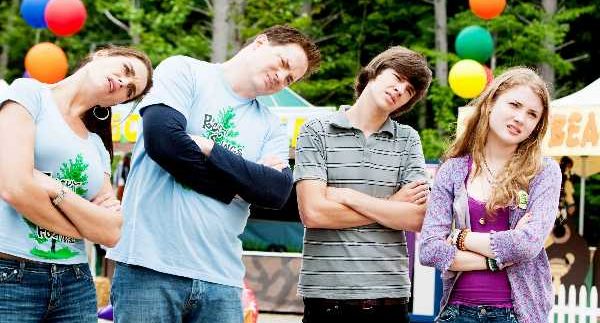 It's a well-known fact that the brainpower needed to process the image
of a talking animal is so mentally demanding that the mind gets completely
enveloped. Burdening it with the least bit of meaningful narrative has been
known to cause psychotic breakdowns, and it's with that cautionary attitude
that Furry Vengeance approaches its
audience; treating them with dandy high-jinks to satisfy their furry needs.
The
only problem is, the cute little raccoons in Furry Vengeance aren't quite fully anthropomorphised. They don't
talk; instead, they vocalise their thoughts in their usual animal sounds accompanied by
thought bubbles, which makes you realise how limp the
latest Brendan Fraser family film vehicle is.
Ripping on Furry Vengeance
feels like attacking a defenceless kitten, but the film is just so poor on so
many levels; giving it a pass on account of Fraser's childlike enthusiasm
is considerably worse. Although everything about the film was made with the
best of intentions; the environmentally aware premise of the film is exploited
as the excuse for the least exciting and most recycled plot line: the supporting
dad who works for a greedy company with no time for his family.
Dan Sanders (Fraser) has recently relocated to a remote forest with his
wife (Brooke Shields) and teenage son, and despite his company's claims to being wholeheartedly
eco-friendly, its newest project basically amounts to scrapping the entire
forest in favour of an upscale housing community and a tropical-themed mega
mall. The CGI forest animals, led by a loopy raccoon, hear the news and
set about systematically torturing Sanders with the most sadistic traps and
mind games.
There is a surprising roster of talent in the
film. Ken
Jeong plays a comically greedy boss who harbours great animosity towards the
forest's furry residents. His assistant is played by Angela Kinsey from The Office, Rob Riggle makes a cameo and The Daily Show's Samantha Bee is also
there as the head of the teachers' committee. However, all these actors get paltry
screen time, nowhere close to matching Fraser, who doesn't mind flaunting his
new flabby belly just to score a laugh or two.