Fury: Solid, Engaging WWII Drama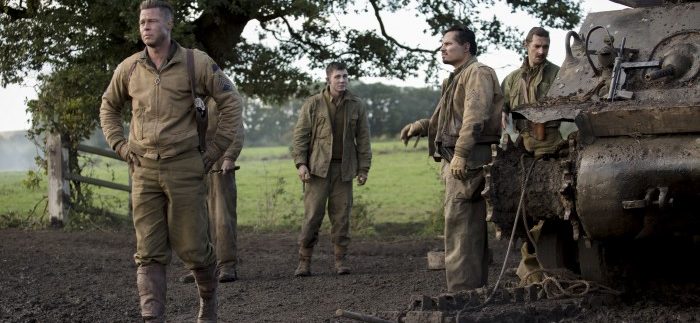 Written and directed by David Ayer, Fury may come across as just another WWII story that has been told many times before, but there's more to it than it meets the eye.
Set in April of 1945, the story centres on the final days of the war, just as the Allies and their forces have pushed the Germans back into their own land for one last fight. Having just returned to base from a long, drawn-out battle, Sgt. Don 'Wardaddy' Collier (Pitt) and his loyal 'Sherman' tank crew, including Boyd Swan (LaBeouf), Grady Travis (Bernthal) and Trini 'Gordo' Garcia (Pena), are mourn the death of their buddy, Red.
However, they're soon presented with his replacement in the form of Norman Ellison (Lerman); a young and a naïve clerk, who's only been in the army for eight weeks and has never set foot on a battlefield, let alone operated heavy artillery. Naturally, the Sherman boys aren't very keen on welcoming the fresh-faced soldier onboard.
Nevertheless, they all soon head onto the battleground to fight what is left of the Nazi forces and Norman's inexperience, naivety and general apprehension of blood and war is soon put to the ultimate test.
There are over two hundred WWII Hollywood-made movies and although the genre has produced some truly memorable films over the years, the majority have failed to add anything new.
Enter David Ayer – the director and writer behind gems such as Training Day and End of Watch – who manages, ever so subtlety, to inject the story with plenty of essence. Extremely violent and grey, Fury – told mainly from within the confinement of a military tank – is explosive and full of anger – hence the title – however, it's more peaceful and quieter moments that speak the loudest and the harshness of war and loss is felt throughout.
The onscreen chemistry between the loyal band of brothers keeps the film interesting. Pitt offers an engaging performance as a hard-worn sergeant, while LeBeouf, Bernthal and Pena round off the impressive cast with solid performances.
Similarly, Lerman, better known for his role in The Perks of Being a Wallflower, delivers the naivety and innocence of youth that the role demanded with aplomb.
While many will consider Fury to be of little significance in the large scope of war period dramas, it's very much the case that the whole is greater than the sum of the parts. You won't see anything new here, but the film's heart and soul is largely owed to its central characters and a director who knows how to tell a story.