Game Over: Farcical Remake of Monster in Law
Iman El Sayed

May Ezz Eldin

...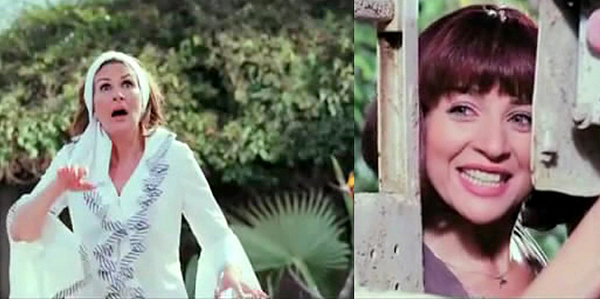 Yosra,
Mai Ezz El Din and Iman El Sayed take over for Jane Fonda, Jennifer Lopez and
Wanda Sykes respectively in this remake of Monster
in Law.
Nada
(Ezz El Din) is a housekeeper at a hotel who works around the clock to save up
enough money to open a restaurant. While working, she meets Amr (Nour), a hunky
guy, who takes one glimpse at her (very fake) wig and French maid outfit and
asks her to be his girlfriend. Soon enough, they're back in Cairo meeting his
newly laid-off, neurotic mother Liqaa (Yosra) and her assistant Wafaa (El
Sayyed). Confident that they'll get along swimmingly, the hunk proposes then
jets off on a work trip leaving mummy dearest and his bride-to-be living
together in a state of war.
The
question poses itself: why remake a seven-year-old, mediocre film if you're
going to stick so closely to the source material? The whole point of remakes is
that all the faults are blatant, making it that much easier to evade them. What
Game Over does is 'Egyptian-ise' the
source material by amplifying anything that could possibly be construed as humorous
until the joke's practically being screamed in your face and is no longer
funny. People hitting each other is not going to make anyone laugh the 50th time
it happens, especially not when the score is as subtle as a cue card dictating
the expected response to the scene. Slapstick can be good in comedy, hilarious
even, but when used sparingly and if there's one thing this film lacks, it's a
sense of balance.
Another
problem with the film is that we don't know anything about Amr. Nour is probably
on screen for a total of five minutes which you'll spend cringing because his
lines, and delivery, are beyond cheesy. We were constantly asking ourselves why
Nada cared so much; what does she know about him that makes her put up with his
mother's abuse? It's a complete mystery and a very someday-my-prince-will-come
attitude to romance that doesn't jive with what we know about Nada as a
career-oriented woman who doesn't fall in love easily.
Ezz
El Din and Yosra are adequate – they fare far better than Nour anyway – but
they aren't helped by the script. El Sayed, however, gets better material to
work with and frequently cracked up the audience with her one-liners. Did we
mention that Yosra and Ezz El Din, in between all the slapping, get into a shaabi
sing off? An auto tuned one no less.
The
best that can be said about the film is that it isn't as bad as its catastrophe
trailer suggests. The audience during the screening were laughing their heads
off but at this point it seems that audiences are willing to comply and laugh
at anything.