Ghesh El Zawgeya: Somewhere Between Sexist & Funny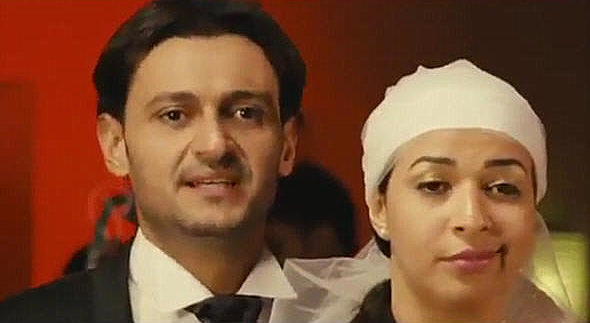 The film revolves around Hazem (Galal); a womanizing slacker who in
order to save his dad's company from going broke, is forced to marry Salma
(Ghanem) – a tomboyish football player who is completely uninterested in
marriage yet is pressured into it by her parents. They're doomed to fail from
the start since Salma is not a sex kitten nor is Hazem a football freak. While
Hazem does his best to stick with the marriage until Salma's dad's bank clears
the loan that his dad's company so desperately needs, Salma devises different
schemes to get him to leave. And if you've ever seen a romantic comedy before,
you know exactly how this one ends.
The problem with the film isn't Salma; it's the way people react to her.
The film is quite reminiscent of The
Taming of the Shrew and it has the same icky sexist vibe running through
it. The point behind The Taming of the
Shrew is that you're seeing a strong-willed woman being torn down by a man;
3'esh E Zawgeyya is the same except
you're seeing a tomboy being pressured to turn into society's idea of the
perfect woman – for her own good of course. The sexist vibes are overpowering
in the beginning when Salma's manner and clothing choices, and the fact that
she isn't stereotypically feminine, are the butt of every joke. The film soon
starts on what is a near constant flow of (very funny) penis jokes though,
giving it respite from taking the mickey out of Salma for a bit It's here that
the film really takes off.
While the beginning of the film had our inner feminists shrieking in
agony, the film's ending isn't nearly as disastrous, due simply to the fact
that Hazem changes more throughout the film than Salma does. The film has an
inner-not-outer-beauty moral that while commendable, is completely shot down
whenever a character says anything along the lines of marriage and babies will
cure Salma and turn her into a normal girl. It's a completely sexist mode of
thinking and assumes that there's one right way to live your life, one right
way to represent your gender and that Salma doesn't know what she wants despite
being a grown woman.
Assuming you can get past the rampant sexism, you'll find a frequently
hilarious movie with a pair of surprisingly great leads in Galal and Ghanem.
Both of their characters are a bit over the top, Salma more so than Hazem, but
both actors prove that they can handle comedy with ease and even Galal's
musical interlude wasn't as ear-gratingly awful as these things usually are.
The film also has a solid supporting cast in Hosny and Fawzy as the lead duo's
fathers and El Gidawy as a doctor with a small but awesome role.
The film is a completely conventional romantic comedy but compared to Egyptian
cinema's recent comedic output, this film borders on genius. It's actually
funny, which is something that really can't be said about recent drivel such as
Game Over.