Girl in Progress: Insufferable Story of Good Girl Gone Bad
Cierra Ramirez

Eva Mendes

...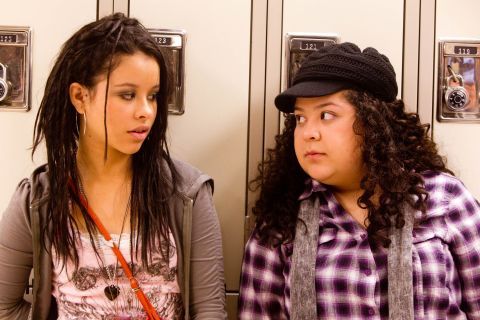 Coming-of-age, or a young person's transition from childhood to adulthood, is often a topic of modern fiction. It's a literature genre, also known as Bildungsroman, which brings its focus on the psychological and moral growth of the protagonist from youth to maturity – where the character arc is thus extremely important. Films, such as Sofia Coppola's
The Virgin Suicides
and Bertolucci's
The Dreamers
, make classic examples of a coming-of-age story done right.
Sadly, the same cannot be said for Patricia Riggen's Girl in Progress.
Ansiedad (Ramirez) is a troubled teen who desperately wants to grow up in order to break free from her careless and flaky mother. The single-mom Grace (Mendes) is working two jobs; when she's not waitressing at the Seattle Seafood restaurant or cleaning homes, she can be found in the arms of a married man, Dr. Harford (Modine). Party girl at heart, Grace cannot seem to get a grasp on reality and Ansiedad has no choice but to take the role of a parent. When her English teacher Ms. Armstrong (Arquette) introduces the class to coming-of-age stories, Ansiedad is instantly inspired. She soon starts mapping out her master plan; dump the chubby best friend, get in with the cool crowd and last but not least, lose virginity. After the process is complete, she can jump on the bus to adulthood and leave her youth, and mother, behind.
Meanwhile, Grace is battling it out for the head-waitress position, while her boss goes off to a crab cook-off competition and her on-and-off love affair with Dr. Harford proves to be difficult when she almost gets caught by the wife.
The film starts off on a relatively positive note and it looks like it's got plenty to say. The audience gets introduced to Ansiedad's sorrowful world as a child of a dysfunctional single parent with a humorous slideshow presentation done for a school project. The snappy exchanges, delivered in a deadpan fashion, almost gave the film an edge, and it really looked like it was going somewhere. Alas, the world of the negligent mother and the attention-starved daughter quickly takes a turn for the worst. The worn-out clichés soon kick in and the mechanical structure, tailored to almost every scene, betrays any kind of sentiment that the film is trying so desperately to portray.
As a reckless single-mom, who has some of her own growing up to do, Mendes cairorevamp_users herself down in a permanent state of panic. She seems uncomfortable and comes off a little obnoxious. Ramirez, on the other hand, holds her own. Considering that she is still new to the big screen, she does a pretty good job of her representation of a petulant teenager.
Girl in Progress tries too hard and does very little. The sluggish execution, the dreadful soundtrack and one too many sub-plots make this story nothing else but a generic tweeny melodrama.