Going the Distance: Sharp Lines, Charming Leads
Charlie Day

Drew Barrymore

...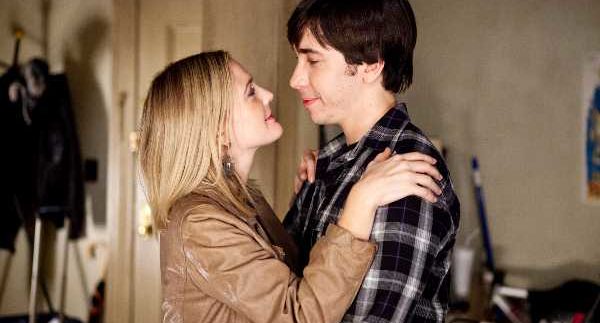 Going the Distance hardly breaks any new rom-com ground. The
formula is beat-for-beat like any other boy-meets-girl film, but the film's
sharp writing and easy flow are paired with moments of refreshing honesty, making
for a very charming film.
Erin
(Barrymore) and Garrett (Long) meet at a New York bar playing a retro arcade
game. Garrett is immediately smitten by Erin's
mad video-game skills and invites her to his table for a beer. They hit it off
and spend the night together, and the next day they go to breakfast, where Garrett
suggests that they should start hanging out together. Erin doesn't mind, but
there is a caveat: she's leaving the city when her internship ends in six
weeks. Both agree to see each other on a casual basis with no strings attached,
but their relationship quickly blossoms into a full-blown summer romance, and
the couple agree to continue their relationship even if that entails playing
the long-distance game.
The chemistry between the two leads makes Going the Distance transcend the genre's
inherent dishonesty. Long and Barrymore are cute together, not in a Hollywood couple kind of way; but in a realistic way.
Applegate
plays Barrymore's protective older sister, and early on during one of their
exchanges over Skype, Applegate's tone comes off as surprisingly vulgar. She
drops an F-bomb casually, and then another, and little by little, raunchy
elements begin creeping their way into what first seemed like a clean-cut film. The
raunchiness is never played for shock value; rather, it breaks the
forced exterior of sweetness that usually makes rom-coms unrealistic. The
dialogue and interactions feel realistic and natural; although the down side
is that four crucial scenes were censored in Egyptian cinemas.
The scenes
chopped out of Going the Distance
hurt the viewing experience substantially. Several consequentially empty references are
made during the second half of the film: they don't make sense without the censored
scenes, and the jokes referencing the scenes fall flat and confuse the viewer.
Going the Distance ditches scenes of overly dramatic displays of
love in favour of more truthful situations and very funny dialogue. With
comedians like Jim Gaffigan, Always Sunny
in Philadelphia's Charlie Day and SNL's Jason Sudeikis, hilarious lines
come in spades.