Grace of Monaco: Shallow Biopic of Hollywood Starlet
Frank Langella

Nicole Kidman

...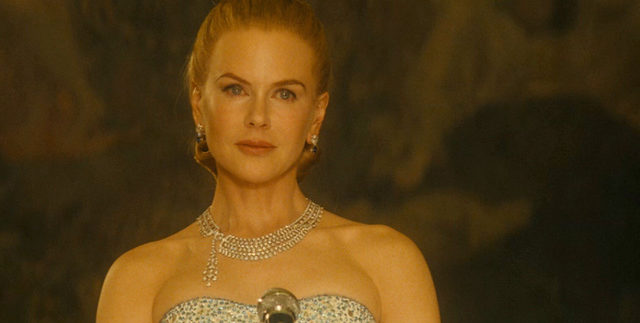 If you were hoping for a deeper look into the life of the late beloved American Oscar-winning actress turned real-life princess, Grace Kelly, then you're in for major disappointment.
Directed by the La Vie En Rose director, Olivier Dahan, Grace of Monaco starts in 1956 with Kelly (Kidman) on the set of Alfred Hitchcock's To Catch a Thief, having just finished shooting that infamous scene alongside Cary Grant.
The story then moves forward to 1961, with Kelly – now Grace of Monaco – married to Prince Rainier III (Roth); it's clear that her marriage is not what she dreamed it would be and her struggles, with keeping up with her long-list of royal duties, becomes the bane of her existence. So, when her long-time collaborator and director, Alfred Hitchcock (Griffiths) reaches out to her with a golden ticket back to Hollywood, with a lead role in his new film, Marnie, Kelly is instantly intrigued. However, abandoning her duties is something that might not sit all too well her husband or the rest of the family.
Meanwhile, trouble is brewing elsewhere; conflict between Rainier and the French President, Charles De Gaulle (Penvern), threatens to bring war to the French Riviera.
To start things off, Grace Kelly's children – Prince Albert and his sisters Caroline and Stephanie – have not been quiet about their denouncement of Olivier Dahan's latest project; stating it as "needlessly glamorised" and riddled with "major historical inaccuracies and series of purely fictional scenes." Sure, Dahan has openly stated that Grace of Monaco is fictionalised accounts inspired by true events, which begs the question, why? Why take material that already has so much potential and turn it into a glitzy and a flimsy soap opera?
Apart from the plot movement, shaky script and the unintentionally funny dialogue, one of the biggest problems with this picture comes in the form of Nicole Kidman. The Oscar-winning actress comes across very cold and, unfortunately, a little too old for the role of a thirty-two year old and having spent most of the screen-time in extreme close up, the truth behind her aging face is a little too hard to ignore.
Known for her poise, elegance and overall warmth, Grace Kelly will forever remain a mystery and it's a crying shame that Olivier Dahan hasn't take the chance to dig deeper.