Grown Ups: Adam Sandler and Company Have Some Good Ol' Fun
Adam Sandler, Kevin James, Chris Rock, Rob Schneider, Salma Hayek, Maya Rudolph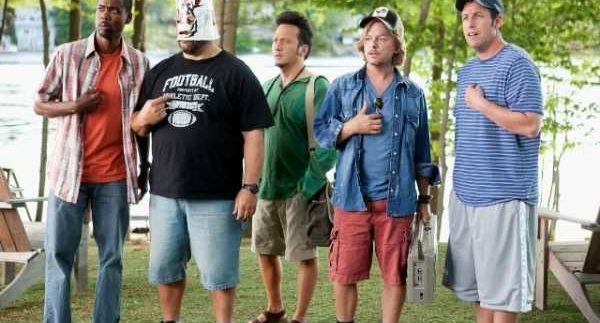 This is an ensemble comedy about middle-aged goofs that is harmlessly
funny – it's Sandler doing his thing,
combining over-sentimentality with silly laughs, gross-out moments
and some clownish stunts; all in the name of good natured fun. The grownups in
the film have no reservations about stooping low for a giggle; so relax, get
the biggest tub of popcorn that you can carry, and enjoy the 100-minute, low-brow
laugh fest.
All the Sandler regulars are present. His
long-time buddies and SNL alumni Schneider, Spade, Rock and Colin Quinn? Check.
His latest favourite collaborator Kevin James? Check. The obligatory (and
hilarious) Steve Buscemi cameo? Double check. Although you're in the hands of
veteran comedians; don't set your expectations too high.
Lenny (Sandler) and his buddies (Spade,
Schneider, Rock, and James) used to play together on a basketball team back in
school. They gave their beloved coach his first and only win, and although they
looked up to him as a father figure; none of them stayed in touch as the years
went by. When their coach passes away, they reunite for the first time in
decades to attend his funeral. Lenny books a huge wooden cabin on the lake so that
they and their families can stay together 'just like old times.'
The group's old goofy dynamics return, and
before you know it; there they are bickering about their wives and spoiled
kids. They can't seem to understand why their children choose to play
videogames instead of enjoying the sunny outdoors. Not to worry; this old crew
is going to get themselves into more outdoor trouble than escaped convicts.
Grown
Ups is not shy about taking a few cheap shots: There
is a granny that farts, a four-year-old that still breast-feeds, and Schneider
is married to an old woman, who takes pride in publicly displaying their
affection.
The brand of comedy that we get here is
typical of the Sandler canon. Lots of running gags and kooky situations tied
together by a familiar story. It gets the job done, and the cast's real-life
friendships help bring a warmth to the film; but fresh and original it is not.
Year after year, Sandler has delivered comedies that perform solidly at
the box office. They aren't without their detractors, but as far as summer
comedies go, the Grown Ups are
alright.