Grudge Match: De Niro & Stallone Face Off in Boxing Comedy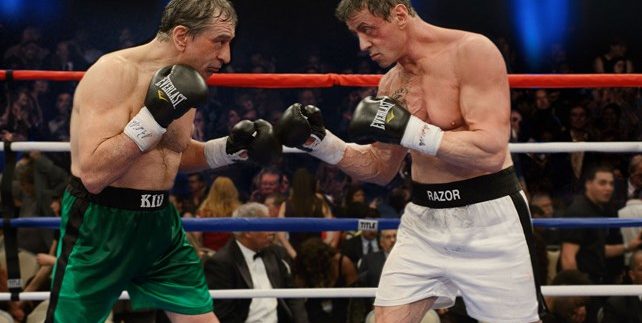 Peter Segal's latest comedy effort brings together the men behind two of the most iconic boxing roles in film history; Sylvester Stallone and Robert De Niro. As always, the prospect of two Hollywood heavyweights getting int0 the ring together – both figuratively and literally – looks insatiable on paper, but ultimately flatters to deceive.
During the 1980's, Pittsburgh rivals and light heavyweight boxing champions, Henry 'Razor' Sharp (Stallone) and Billy 'The Kid' McDonnen (De Niro), were at the peak of their careers.
Having fought each other twice, with Razor winning one fight and the Kid winning the other, Razor retires, ultimately ending both fighters' career with a big question mark.
Fast forward to thirty years later, Razor, a simple man who refuses to own a TV, returns to normal life as a happy-go-lucky factory worker, while the Kid enjoys success as a car dealership owner and a restaurateur.
The two are soon brought together again by the son of Razor's old manager's, Dante Slate Jr. (Hart), who wants them on board with a new video game. Razor accepts for financial reasons, while the Kid is more than happy to get a second chance of settling an old score. Naturally, the rivals don't waste any time before breaking into a full-blown war and, thanks to video footage – which quickly goes viral – they are offered a chance of a rematch in the ring.
Known most for his work with Adam Sandler in Anger Management and 50 First Dates, Segal's efforts here are somewhat saved by the very idea of the older versions of Rocky Balboa and Jake Le Motta battling it out on-screen. De Niro wears his trademark smirk throughout the film and is still able to pull off a certain degree of charm and machismo. The same goes for Stallone who, despite the usual mumbling and tongue-tied delivery, manages to evoke Rocky's glory days. The supporting cast, which includes Arkin as Razor's long-time trainer and Bernthal as the Kid's long-lost son, are given little screen time for their characters to develop.
The screenplay, written by Tim Kelleher and Rodney Rothman, is lazy and relies very much on its two leads. The film is at its best with its comedic elements, but ultimately leaves you with very little to chew on and questioning if this to be the trend for legends of the silver screen like De Niro and Stallone.
Cringingly predictable at times, the Grudge Match's missteps and blunders are easily excused if you approach the film without the lofty expectations set out by the very idea of it.