Guardians of the Galaxy: New, Quirky Addition to the Marvel Universe
Benicio Del Toro

Chris Pratt

...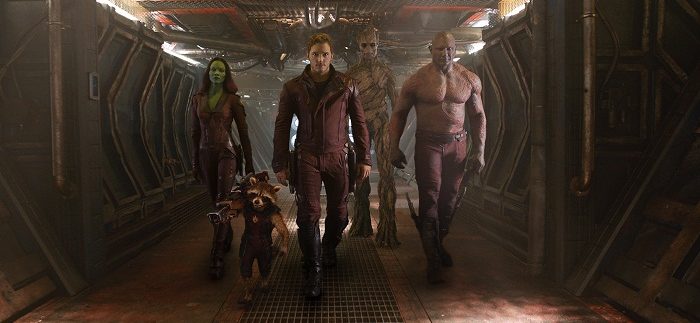 Emerging from a lesser-known comic-book line, James Gunn's Guardians of the Galaxy – Marvel's tenth, and possibly quirkiest, offering – proves to be a risk well taken.
Set entirely in the galactic immensity of outer space, Guardians of the Galaxy follows the story of Peter Quill (Pratt); a twenty-six-year-old Earthling who was abducted as a young boy and raised by The Ravegers – an alien gang of thieves led by the notorious, Yondu (Rooker).
Far away from home, Peter – a.k.a Star Lord – now roams the cosmos and soon comes across a special orb; a silver infinity stone that holds an incredible amount of power. Unfortunately, he's not the only interested party and he is soon confronted by Korath (Hounsou); the right-hand man of one of the most villainous terrorists in the galaxy, Ronan (Pace), who wants to use the orb to overthrow a rival civilization run by Nova Prime (Close).
Intrigued by the high interest in his new discovery, Peter turns his back on Yondu, who sends assassin, Gamora (Saldana), to retrieve the orb.
He also soon attracts the attention of bounty hunters, Rocket (voiced by Cooper) – a sly raccoon warrior – and his best pal, talking tree-like human, Gcairorevamp_user (voiced by Diesel).
After causing a public disturbance, Peter and his pursuers are soon put in prison and form a temporary bond, along with muscular inmate, Draz (Bautista), in order to break out and prevent the precious stone from falling into the wrong hands.
Written by James Gunn and Nicole Perlman, Guardians of the Galaxy is refreshingly off-beat, steadfast and full of character. Visually, Gunn paints his intergalactic backdrop with plenty of colour, however some of the CGI tends to feel a little overcooked and the action-scenes – although pretty entertaining– feel a little unrefined.
Pratt – whose character and performance has already drawn comparisons to Harrison Ford's Indiana Jones – proves to be a solid and extremely likable lead, while Saldana uses her trademark femme fatale penchant to great use . However, it's Cooper as the chatty and cheeky raccoon, Rocket, and Diesel as the human-tree, Groot, that steal the show, adding a whimsy rarely seen in modern comic-book film adaptations.
Without household comic-book names to inject a bit of weight into proceedings, this is a film that could have found itself in the annals of failed comic-book adaptations, alongside Marvel flops such as Daredevil, Elektra and Ghost Rider.
But, armed with a funky 70's soundtrack, likable characters, a witty temperament and thrilling action, Guardians of the Galaxy has arrived at the perfect time for Marvel, who – despite huge box office earnings with Captain America, The Avengers et al – were in dire need of a fresh canvas.