Hail, Caesar!: Quirky Coen Comedy Salutes 1950s Hollywood
Channing Tatum

George Clooney

...
While many consider the Coen Brothers to be masters of their trade, getting lost in the worlds they create on screen isn't always easy. Their somewhat cynical, maybe even grim, outlook can even be found in their lighter works and, though Hail, Caesar! may not be easily digestible for all, those versed in the sibling filmmakers' distinct voice and style will find plenty to walk away with.
The story follows a day in the life of one Eddie Mannix (the always reliable Josh Brolin); a no-nonsense 'fixer' for a film studio in the 50s who maintains its public image and makes sure that any scandals are kept under wraps. From trying to keep the news of the famed starlet DeAnna Moran's (Johanssson in her element) out-of-wedlock pregnancy hush-hush, to dealing with veteran filmmaker's, Laurence Laurentz (Fiennes) concerns with his new leading man, Mannix is one busy guy.
However, none of those problems compare to one of his biggest challenges, which finds one of the studio's biggest stars, Baird Whitlock (Clooney), kidnapped and held for ransom by an organisation that calls themselves 'The Future', amidst the actor filming a Ben-Hur like epic.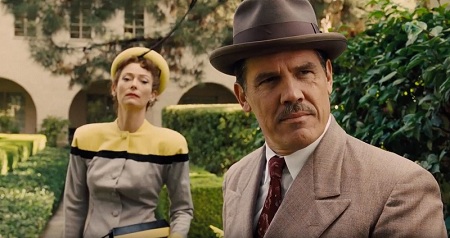 Quirky, cheeky and surprisingly 'light' for a Coen-brothers film, Hail, Caesar! is a beautifully realised, pedantically crafted and a deliciously loyal throwback to the Golden Age of Hollywood. In true Coen style, a sense of freedom provides a perfect backdrop for the straight-faced, self-deprecating humour that defines the tone. Lying somewhere between a light-hearted drama and a parody, the film is packed with characters and although the film can feel a little crowded, it never comes across as heavy-handed.
In terms of cast, there isn't a weak link in this A-list ensemble; from Brolin's persuasive performance as the quick-thinking Eddie, to George Clooney's hilariously dim take on a star actor who is has been in the proverbial bubble for far too long, everyone delivers. Johansson, meanwhile, takes on a fictional rendition of Hollywood icon, Esther Williams, and makes it her own, while Tatum shines in a Gene Kelly-inspired dance number – and let's not forget Tilda Swinton's deviously delicious portrayal of twin reporters looking for gossip. Everyone seems to be having fun and it translates to the screen perfectly in what is certainly an entertaining production.