Haunt: Eerie but Predictable Horror
Harrison Gilbertson

Ione Skye

...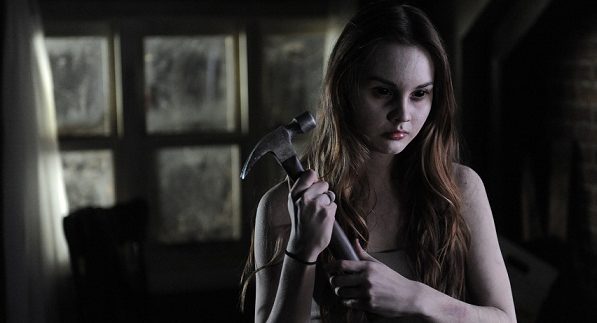 It shouldn't come as a surprise that originality and suspense manages to escape another haunted-house Hollywood production in the Haunt; a lazy and uninventive ghost story which, despite the strong mood, still manages to dissolve itself into a standard and a predictable tale of horrors.
The story is centred on the Asher's; a family of five that has just moved into an abandoned house in the country. The house previously belonged to the Morello's; also a family of five whom all – apart from the hollow-eyed matron of the house, Janet Morello (Weaver) – were victims of mysterious and tragic deaths.
However, the Asher's choose to look the other way, and despite being aware of the house's haunted and ominous past, they are still excited to begin a new life in their new home. Soon after moving in though, the moody eighteen-year old Evan befriends Sam (Liberato); a mysterious teenage girl who holds a particular interest in his new habitat.
The duo soon find themselves in the Asher's attic – the one place that the petrified-looking Janet Morello warned them to stay clear off – and stumble upon a dusty radio-transmitting machine, called the Electronic Voice Phenomena. The machine, according to Sam, is used for contacting the dead and she soon decides that they should call up on the spirits of the Morello family in order to find out what has happened to them; a decision that soon brings in the unwelcoming presence of even more evil descending on the Asher family.
Haunt starts off strong and there is a genuine sense of dread and eeriness built into its opening scene, which finds the inconsolable Frank Morello (Hadra) attempting to contact his deceased children through the EVP. However, despite the promising start, the built-in tension is short lived and the narrative – working from the script of the first-time screenwriter, Andrew Barrer – is quick to fall into the traps of typical ghost-house schemes, where every bump in the dark and creak in the floor is conveyed with a fitting musical cue and a sudden jolt of terror.
Gilbertson – fresh off of Need for Speed and Liberato – previously seen in the 2012's romantic comedy Stuck in Love – share a decent amount of chemistry and everything about their performance seems relaxed and fitting – despite the predictable dialogue – while Weaver, gives it her all and manages to deliver a truly compelling and a terrifying performance.
Director Marc Carter's feature-debut manages to embody the right kind of mood and the Haunt's aura is perfectly suited for its ghostly premise. However, its haunting disposition cannot make up for the lack of imagination, ingenuity and suspense that unfortunately, ends up following this sluggish horror-entry all the way until the end.