Horrible Bosses 2: Unnecessary & Cringingly Unfunny Comedy Sequel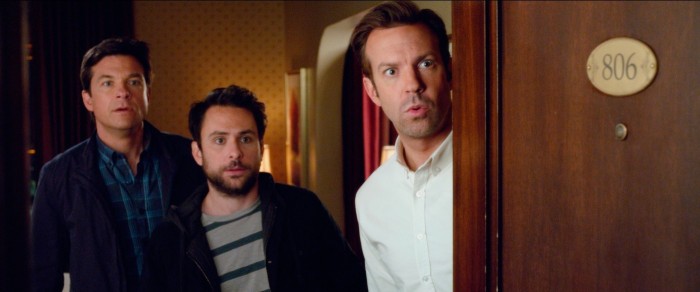 Although there are moments of genuine hilarity to be found in the follow-up to the delightfully raunchy 2011 comedy, Horrible Bosses, it's hard not to wince at just how eager and desperate it is to please.
Directed by Sean Anders – who also co-wrote the script along with John Morris – Horrible Bosses 2 once again follows the turbulent, and at times abstract, lives of Nick (Bateman), Kurt (Sudeikis) and Dale (Day); three good friends who, after successfully managing to free themselves of their 'horrible bosses', are now contemplating starting a new business together with their invention, the Shower Buddy; an elaborate and ever-so-slightly ridiculous shower head inspired by car washes.
Their efforts attract the attention of wealthy retail tycoon, Bert Hanson (Waltz), who offers to fund their business if they can produce 100,000 units. After taking out a loan, renting a warehouse and hiring employees, Hanson takes the stock but back out of the deal, leaving the three friends in six-figure debt.
Considering that their previous plot of murdering their bosses didn't quite go as planned, the three friends decide to go in another direction; kidnap Bert's extremely spoiled and arrogant son, Rex (Pine), and ask for a hefty ransom. However, their seemingly bullet-proof plan goes haywire when Rex – a shady figure like his father – quickly turns the tables on the dim-witted threesome with a devious scheme of his own.
Just like many comedy sequels – see Hangover II, Dumb and Dumber Too – the payoff is never quite as satisfying as the first-time around. Relying on the same brand of humour, Horrible Bosses 2 just isn't as funny as its predecessor and becomes repetitive pretty early on – particularly the crass rape jokes.
Only Chris Pine comes out of the other end with any dignity, bringing his deliciously devious character to life, with the always brilliant Christoph Waltz needlessly tarnishing his recent rich vein of form with what is a completely unnecessary sequel. Though the cast is packed to the rim with popular and likeable actors, all seem to be going through the motions – though the blame for that should fall squarely on the monotonous, tedious and cringingly uncreative script.
At its very core, the film is flawed. Those who wronged our three heroes in the first film were to be condemned to murder. This time round, the son of the man who did them wrong is condemned to a kidnapping. Sequels should build and go bigger than the original; Horrible Bosses 2 bafflingly aims lower.