How to Train Your Dragon 2: Powerful Sequel
America Ferrera

Cate Blanchett

...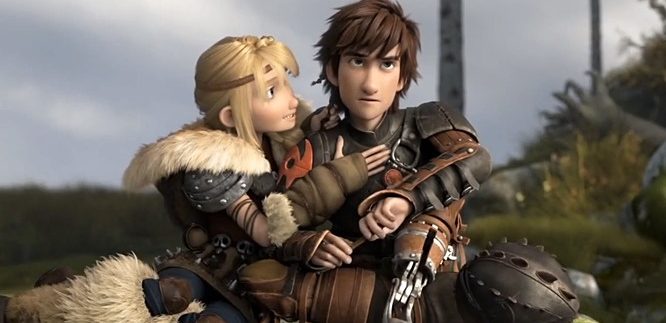 Despite the fact that so few sequels have ever topped, or even matched, the original, How to Train Your Dragon 2 – the sequel to the 2010 hit and the middle chapter of the three-part trilogy – proves otherwise.
Written and directed by Dean DeBlois, the story is set five years after the events of the first film; the Vikings of Berk are now sharing their skies with their winged-friends and Hiccup (Baruchel) has patched things up with father, Berk's powerful leader, Stoic (Butler).
Now that Red Death has been defeated, the island is relatively peaceful, but Hiccup – now a fully grown man – is about to face a new set of challenges as his father prepares to pass the torch down to his only heir. However, Hiccup prefers to spend most of his time exploring the uncharted lands beyond the island with his now-girlfriend, Astrid (Ferrera), and his pet-dragon, Toothless, a.k.a Night Fury.
Soon, they come across Eret (Harrington); a dragon thief looking to poach anything he can get his hands on to sell to Drago (Honsou) – a ruthless figure looking to build an army of dragons and assume power over the entire kingdom. After successfully escaping Eret, they end up finding a dragon sanctuary controlled by Valka (Blanchett); a mysterious woman who holds a deep understanding of dragons and the only person who might be able to help Hiccup – and the Vikings of Berk – fight off Drago's rising threat.
In order to make a worthy sequel, one must first make sure that the story is worth revisiting; the first movie was a big hit so it was only natural that a sequel would follow – one of the basic rules of Hollywood. Moving the story into a new direction and building on its already established premise is the next key to its success.
The setup is much bigger this time and the well thought-out narrative ends up serving as a coming-of-age story – as opposed to an underdog tale of a boy and his pet-dragon – which now follows a young man who is forced to leave the naivety of his adolescence behind and move into the troubling waters of manhood. There are a lot more dragons to play with too and the skies over Berk are livelier and feistier than ever; the animation is refined and engaging and there is never a dull moment.
Baruchel is once again loveable as the hesitant hero and as his tenacious father, Butler – still sporting a strong Scottish accent – is as efficient as ever. However, it's the addition of Blanchett that adds weight to a story that not only entertains, but also offers a few life lessons on the importance of family, integrity and courage.