Ibn Al Konsol: An Adventurous Film with a Sense of Humour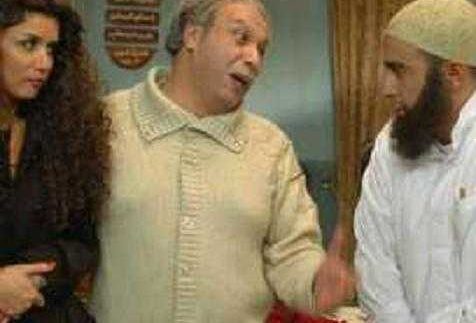 In the small and
highly competitive Egyptian market, few filmmakers dare to take
chances and foray into unconventional territories. Ibn
Al Konsol
(Son of the Ambassador) is Ahmed El
Sakka's latest and most enjoyable offering to date. Not only does
El Sakka step out of his usual action mould; he also takes a back
seat in order to share the screen with Saleh so that the two of them
can play a fun cat-and-mouse game. Although their efforts showcase
refreshing humility and respect for their craft, it doesn't fully
translate into a coherent film. Ibn Al
Konsol is an audacious experiment; but
not a great one.
Ostensibly, this is
a light-hearted con film, one where the central mystery is evident
from the very first frame. Ibn Al Konsol
is not good at hiding its intentions; you know right away when Adel
(Saleh) meets his estranged son, Esaam, (Sakka) that something is
fishy. The suspicious gazes that they exchange are not designed to
lead you anywhere but to one conclusion: Esaam is pulling a number on
Adel.
Adel is also a great
character to con; as he used to be the greatest con man in Alexandria. That's
how he earned the nickname Al Konsol (The Ambassador), by forging
visas and official documents for a living. Unfortunately, his career
path led him to a 30-year sentence, during which the art of forgery
and communication advanced considerably; and as a result, his specific
skill set became obsolete.
Still, Adel is a
cautious man with enough experience and street smarts to not just buy
into any story without some suspicion and cynicism. That's
why he never fully believes Esaam to be his son; instead, he thinks of
him as another schmuck that he can financially abuse now that he's
down and under.
For a film solely
devoted to plot twists and toying with expectations, Ibn
Al Konsol is crippled by a rudimentary
and undecided script. The entire middle part of the film is supposed
to be the most interesting; yet it regresses into comedic sequences,
repeating the same joke with bizarre persistence. Thankfully,
director Arafa gets the film back on track near the end for his final
reveal. He also executes his shots by using lively choices.
What's more
refreshing about Ibn Al Konsol is
that it never loses its sense of playfulness. The actors seem to have
a genuine blast with the material, from Ghada Adel to a jolly Sakka
and mostly Saleh, who fully embraces his character's quirks with
delightful results.