Into the Storm: Flimsy & Derivative Disaster Movie
Alycia Debnam-Carey

Arlen Escarpeta

...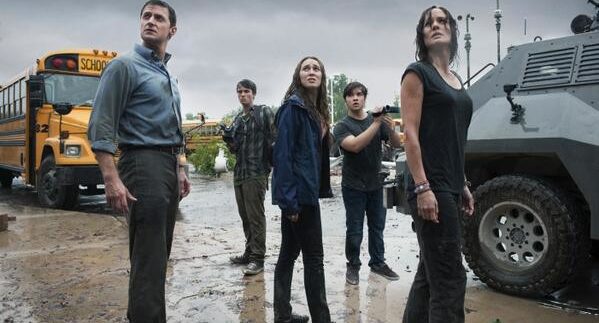 There is very little exhilaration and a great deal of banality to be found in Steven Quale's Into the Storm; the latest Twister-inspired disaster-movie which, thanks to its unoriginal and heavily-flawed premise, leaves a trail of unwanted destruction behind and unfortunately, a lot to be desired.
For a small and passionate group of storm-chasers, led by the documentary filmmaker, Pete (Walsh), camera operatives, Daryl (Escarpata) Lucas (Whittaker), Jacob (Sumpter) and meteorologist, Allison Stone (Callies) ,it's all about catching that perfect tempest. However, it's been a while since any of them have seen anything worthy of filming, and the crew – whose program funding is being threatened – is in desperate need of a genuine thrill.
So, when they hear about a deadly tornado – which has already claimed the lives of four teenagers in Northern Oklahoma and is now headed to a small, sleepy town of Silverton, Colorado – they decide to go after it.
Meanwhile, a graduation ceremony is underway at the Silverton High School and its vice Principal Gary Fuller (Armitage) has his hands busy, leaving very little time to watch over his teenage sons, Donnie (Deacon) and Trey (Kress), who he has instructed to make a student time-capsule video. However, Trey – the more sociable of the two – decides to use this opportunity to help his crush and classmate, Kaitlyn (Carey), reshoot a video about an abandoned mill, completely unaware that a severe storm is about to hit their little town and destroy everything in its wake.
A seemingly generic and engaging plot, featuring by a group of uninteresting characters, is the film's most obvious weakness. The decision to shoot most of the action using the now rather grating concept of found-footage only serves to condemn this film further into the depths of triteness; not only does it detract from the film's main action set-pieces, but also fails to offer anything new in this already worn-out technique.
On a more positive note, however, the special effects – when given a wider space to twist and turn – actually work and the calamity of this unforgiving storm manages to be brought to realisation.
Unfortunately, though, when the wind stops blowing and the weightless performances become the focus, there is very little emotion or genuine tension to invest in.