Jack Ryan: Shadow Recruit: Reboot of Tom Clancy Franchise
Chris Pine

Keira Knightley

...

Action & Adventure

Drama

...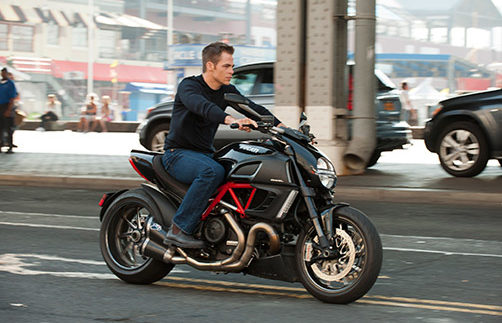 Following The Hunt for the Red October, Patriot Games, Clear and Present Danger and The Sum of All Fears, Tom Clancy's Jack Ryan series finds its way on the silver screen once more with, Jack Ryan: Shadow Recruit.
The film begins with a brief summary of Jack Ryan's (Pine) life as an astute college student, attending the London School of Economics. Following the events of 9/11, Jack enlists in the US Marines, but due to a ghastly back injury following a terrible helicopter accident in Afghanistan, he is forced to withdraw from duty.
During his lengthy recovery, Jack meets – and soon falls in love with – Dr. Cathy Muller (Knightley). He is soon approached by CIA operative, Thomas Harper (Costner), who wishes to recruit Ryan into the CIA and put the former GI undercover as a financial analyst.
Fast forward to ten years later, Ryan is now engaged to Cathy and has managed to establish himself as a key figure on Wall Street, where he has been assigned to monitor any suspicious trades. Soon, he is sent to Moscow to investigate several suspicious transactions made by a mysterious Russian firm run by icy CEO, Viktor Cherevin (Branagh). After surviving an attempt on his life, Ryan uncovers a plot that could bring down the American economy.
Following in the footsteps of the likes of Alec Baldwin, Ben Affleck and, most notably, Harrison Ford, Pine is charming, naïve and talented all at the same time and manages to keep you engaged throughout. As his mentor, Costner is equally pleasing in his usual understated confidence, while Knightley, whose character is probably the weakest link in the chain, does her best with what is a thinly-drawn character. Branagh, on the other hand, who serves as both the director and the villain of the story, gives a brilliantly complex performance; hostile, introverted and unnerving, the Irish-born actor-turned-director steals the show.
Unlike previous Jack Ryan adaptations, the story is not taken directly from a Clancy novel, nor is it a clear-cut action flick. The plot takes its time to build, before turning into a relatively competent political thriller. The action sequences are pretty satisfying, if not thrilling, and Branagh manages to keep the pace moving and the suspense level fairly high. On the downside, there is a certain strain of absurdity and unexplainable decision-making running through the storyline and there are more plot-holes than any Jack Ryan fan will want to admit.
Overall, Jack Ryan: Shadow Recruit can be considered a relatively successful reboot; slick but unpolished, thrilling but not groundbreaking, it is a fine and a functional spy-action-thriller that has breathed new life into an old character.