Kingsman – The Secret Service: Super-Violent, Super-Fun British Spy Comedy
The only way to truly enjoy this latest homage to espionage-thrillers is to fully embrace the goofiness and the over-the-top antics it's got on offer. Directed by X-Men First Class' Matthew Vaughn, Kingsman: The Secret Service – a super-slick and a cleverly refreshing spy-movie send-up – is not without a fault. However, there is still plenty to enjoy.
Scripted from a comic series titled, The Secret Service, the story is centred on Gary 'Eggsy' Unwin (Egerton); a troubled twenty-something delinquent who, after losing his father at a young age, has grown up to be a street-smart and a directionless wise-ass.
With zero respect for the authorities, Eggsy – who believes that his father was killed in combat somewhere in the Middle East – continues to defy the law and soon gets into some serious trouble with the police. Luckily, he is soon rescued by Harry Hart (Firth); a leading member of an elite spy agency – a.k.a Kingsmen – an old acquaintance of his father.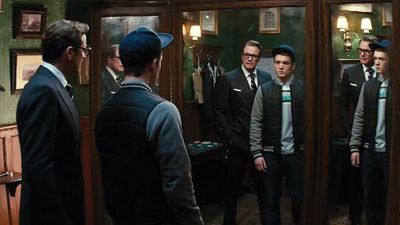 Believing that Eggsy has got the makings of a true Kingsmen, Harry soon convinces him to join the agency. However, he first must undergo a series of tests and obstacles – overseen by the group's tech expert, Merlin (Strong) – before he can even be considered, while in the meantime, a super- dangerous threat emerges on the scene in the form of a billionaire tech guru named Valentine (Jackson), whose super conniving plan – involving a SIM card – must be stopped before it's too late.
Kingsman: The Secret Service just may well be one of the finest spy-thriller takeoffs on the popular – but seemingly dying – genre, whose deliciously-daring and R-rated cartoonish violence will keep audiences amused. Not everyone will find the violence welcoming but, Michael Vaughn – see Kick Ass, Layer Cake – has managed to find just the right balance, offering plenty of laughs and stylised action – the gadgets make for particularly fun viewing – to qualify a fun, easy and a stress-free viewing experience.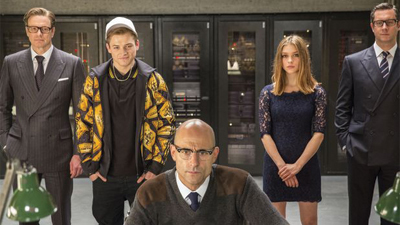 Bringing every inch of his charm and on-screen elegance to the table, Firth does a magnificent job as the almost charmingly aloof Harry Hart, while Jackson – sporting a tip-to-toe neon look and an awfully entertaining lisp – is a true scene stealer. However, it's Egerton who deserves most of the plaudits as the heart of the story and his scallywag-to-suave-spy arc is surprisingly satisfying.
Super-violent but super-fun, it's not all gags for Kingsman; there's a strory and there'ss a heart and even if it does go a little far with its ideas, the film still delivers.