Kristy: Atmospheric Home-Invasion Thriller
Ashley Greene

Chris Coy

...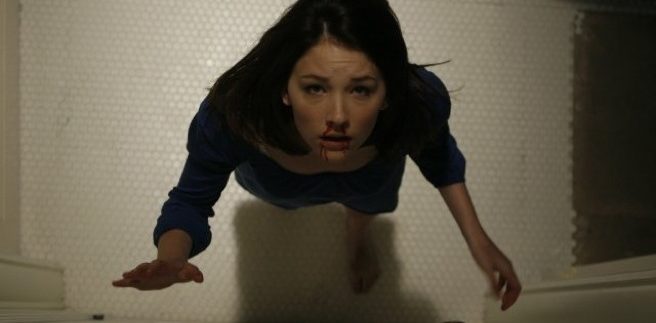 At first glance, Oliver Blackburn's Kristy seems to be just another home-invasion thriller that does very little to elevate the standard tropes of the genre. However, thanks to masterfully-built, slow-burning tension, Kristy still delivers a few delightful frights.
Penned by Anthony Jaswinski, Kristy is set in Portland, Oregon and opens with a news report about a group of missing twenty-something year-old girls whose murdered bodies have been turning up across the country, with their deaths looking to be a result of a satanic ritual.
The story soon shifts its focus on Justine (Bennett); a young college student who gets stuck alone on campus during the Thanksgiving break. Unable to travel home for the holidays – mainly due to lack of finances – she decides to stay behind to hang out with roommate, Nicole (Ash), and use the peace and quiet to catch up on her studies.
After saying goodbye to boyfriend, Scott (Ransone) – who is reluctant of leaving her behind – she learns that Nicole too will leave to spend time with her family in Aspen, leaving Justine completely alone with a couple of security guards and a groundskeeper for company. After stepping off campus to get herself a well-deserved midnight snack, Justine runs into a mysterious hooded girl called Violet (Greene).
It's not long before Justine learns that she has been followed back to the campus by Violet and her mask-wearing buddies who will do anything in their power to get their hands on another innocent victim.
Light on the gore, but easy on the eye, Oliver Blackburn's Kristy is enriched with stunning visuals and clever camerawork that allows the audience to feel – and almost taste – the isolation and anxiety that surrounds the film's heroine. The opening scenes – used to observe Justine's newly-found solitude – create a fittingly claustrophobic atmosphere.
Forceful and compelling, Bennett proves to be a pretty decent choice for the lead and her transition from a young college girl into a survivor is built well. Greene, on the other hand, doesn't fare quite as well; bland and expressionless, her contribution was pretty ineffective and, just like the rest of her gang, lacking the edge to make an impact as the villain of the story. The broody demeanour just doen't connect.
Kristy is filled with a sense of implausibility, but if you're able to suspend your disbelief just a little more and overlook its flaws – the overpowering music cues and some rather predictable and cheesy horror traps, for example – you will find that Kristy is a decent entry to the increasingly saturated horror genre.