Laggies: Light & Wispy Coming-of-Age Drama
Chloë Grace Moretz

Keira Knightley

...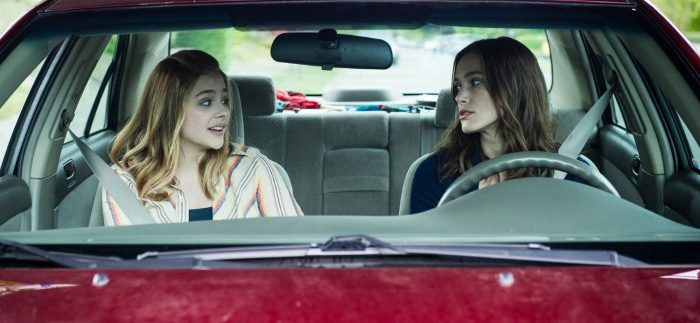 Laggies – taken from the word "Lag" – is the latest directorial effort from indie-filmmaker, Lynn Shelton; a charming though somewhat directionless coming-of-age-drama told through the eyes of an adult who refuses to grow up.
Scripted by first-time screenwriter, Andrea Seigel, Laggies is set in Seattle and is centred on Megan (Knightley); a twenty-eight year old who still hasn't figured out what she wants out of life. While her friends are busy pursuing careers and having babies, Megan – despite an advanced college degree – would rather spend her days hopping between tedious jobs and spend time with her long-term boyfriend, Anthony (Webber).
Her world is soon plunged into chaos when Megan is confronted with two bombshells in one day, causing her to essentially freak out withdraw and take some time out to clear her head.
She soon comes across sixteen-year old Annika (Moretz) and the pair soon bond, before Megan quickly moves in with the teenager and her sceptical, single divorce-lawyer dad, Craig (Rockwell). Closing herself off from the rest of the adult world, Megan realises that the rebellious child inside of her will need to grow up and build up the courage to face adulthood and all of the responsibilities that come along with it.
Laggies is extremely light on its feet and Lynn Shelton keeps things relatively bright and breezy the whole way through. Simply shot, the story is humble and relatively unassuming in its explorations of friendships and adulthood. However, although it makes for a pretty easy and an undemanding watch, it lacks complexity and depth; something that fails to create a hook for audiences to engage.
Nonetheless, the success of the film lies with the characters and the charismatic performances of both Knightley and Moretz whose onscreen chemistry carries the occasionally wispy plot. Knightley is affable as a ditzy adult whose quirky ways make it almost impossible to condemn her, while Rockwell adds comic-relief into the mix.
On the whole, Laggies isn't a film that will wow on the big screen; like many indie productions, its appeal is in its subtle charm. Ultimately, it doesn't build on its feathery premise, but it's the charming performances of its cast that cover up its imperfections.