Legends of Oz: Dorothy's Return: Shoddy 3D Animation Sequel
Dan Aykroyd

James Belushi

...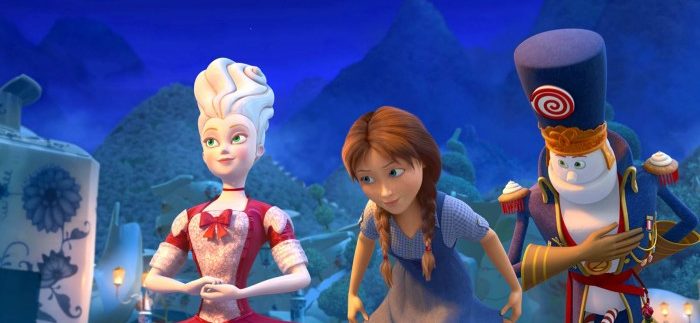 Following her adventures in Oz, Dorothy (voiced by Michele) has now returned to Kansas and begins readjusting to her old life, before a brutal storm destroys her family's farm and the rest of the town along with it. Local conman, the Appraiser (Short), is quick to take advantage of the devastation, insisting the townspeople sell what's left of their homes and land to him.
Before she even gets the chance to put up a fight, Dorothy – along with her pet dog Toto – is soon sucked back into Oz by her old pals, Lion (Belushi), Scarecrow (Aykroyd) and Tin Man (Grammer), who have call on their friend to help out with a highly urgent issue.
The Wicked Witch of the West's brother, the Jester (Short), is plotting to take control of the Emerald City and plans to do so by turning everyone into marionettes and by using his very own horde of flying monkeys. Having already captured her old pals, Dorothy soon befriends Owl Wiser (Platt), China-Doll Princess (Hity) and the noble soldier, Marshall Mallow (Dancy), and soon starts putting a plan into place.
Serving as a 3D animated follow up to the 1939 original, Legends of Oz: Dorothy's Return plays out like a low-budget, straight-to-DVD production – this despite having a reported budget of $70 million. Granted, that figure might be considered low in comparison to what Disney and Dreamworks shell out for animations these days, but here's something to chew on: the first Toy Story film was made for $30 million.
Needless to say, Legends of Oz: Dorothy's Return lacks all the originality and charm of Toy Story, with the script itself being something of a minefield, thanks to numerous changes, additions and omissions from the source material – Dorothy of Oz written by L. Frank Baum's great-grandson, Roger Stanton.
The quality of the animation is a far cry from the Dreamworks and Disney animations of today, while the story, the songs and the overly-boisterous characters, come together to create a rather primitive piece of film.
Despite this, the cast does elevate the viewing experience ever-so-slightly, particularly the threesome of Jim Belusci, Dan Akroyd and Kelsey Grammar. But even these seasoned comedic actors can't save what is a shamble of a film.