Life of Crime: Nice but Plain Crime-Comedy
Isla Fisher

Jennifer Aniston

...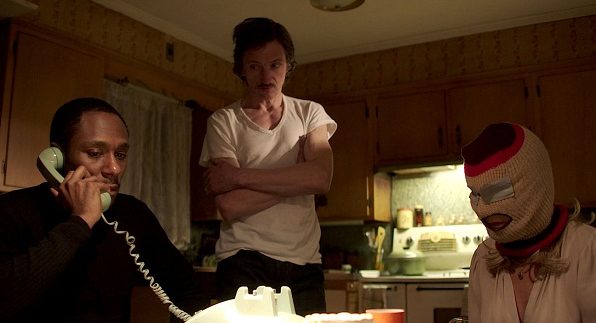 Unable to take the plunge and fully immerse itself into its own pool of ideas, Daniel Schechter's Life of Crime – drawn from the pages of Elmore Leonard's 1978's novel, The Switch – is, sadly, neither here nor there.
Set in Detroit, Michigan circa 1978, Life of Crime is centred on inept and useless low-level criminals, Louis (Hawkes) and Ordell (Def), who hope to extract one million dollars from drunken real-estate developer, Frank Dawson (Robbins), for the kidnapping of his seemingly lonely socialite wife, Mickey (Aniston).
The plan seems pretty straightforward at first, but little did they know that Frank – who's busy canoodling with his young mistress, Melanie (Fisher) at their vacation home in Florida – has already filed for divorce and is now more than happy to use this opportunity to sidestep the obligatory alimony payments.
Now that Frank has called their bluff, things get a little complicated for the hopeless thugs who have clearly not done their research and even more so when Mickey – who is being held hostage at a home of a Nazi-loving fanatic, Richard (Boone Jr.) – comes to realise that her matrimonial bliss has now truly come to end. The deepening relationship between Louis and Mickey only adds fire to the fuel, causing a riff between the two partners, who seem to be running out of both ideas and time.
While the film still manages to serve its purpose and deliver the goods – through a mix of black comedy and slow-burning tension –Schechter, who also wrote the adaptation, plays it too safe; an approach that doesn't really allow for Elmore Leonard's distinctive storytelling style to shine through. Life of Crime is not the first Elmore Leonard adaptation – see Tarantino's Jackie Brown and Sonnefeld's Get Shorty. Unlike those to adaptations, this lacks an edge, leaving it rather placid.
Aniston shines as the lonely trophy wife whose kidnapping – although distressing – also ends up being a one-way ticket out of her isolated and troublesome marriage. The actress, who is not usually seen in these types of roles, manages to show great versatility and the chemistry shared between her and Hawkes is equally convincing. Robbins is persuasive as the alcoholic, two-timing husband while Fisher was deliciously manipulative as the seductive mistress.
Capturing the 70's era with plenty of polish and charm, Life of Crime is rather forgettable, despite occasionally popping into action – the source material deserved better.