Lucy: Far-Fetched Plot Yields Surprisingly Gripping Thriller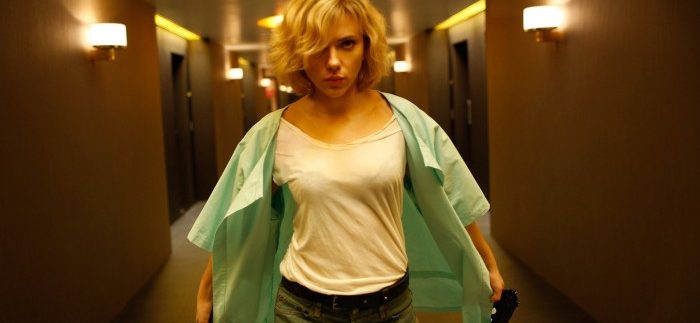 Attempting to tap into the workings of the human mind, Luc Besson returns to the big screen with Lucy; a rather outlandish, but awfully entertaining, sci-fi drama.
Written also by Besson, the film opens in Taipei, Taiwan with party girl, Lucy (Johansson), being pushed into delivering a mysterious silver briefcase to Chinese crime lord, Mr. Jang (Min-Sik), by her scheming lover, Richard (Asbaek). She refuses to comply, but before she gets a chance to walk away from this potentially dangerous situation, her hands are cuffed onto the case and she is left with no choice but to face the music.
It's not long before Lucy steps into Mr. Jang's world and is abducted by his army of men. Fearing for her life, Lucy soon learns what's inside the briefcase; an immensely powerful experimental drug called CPH4 whose content will soon be surgically inserted into her abdomen. Overnight, Lucy – along with three other men – is turned into a drug mule, whose mission is to transport the drug out of the country and into Europe.
When attacked by thugs prior to her flight, the bag inside her bursts and leaks a lethal dose of the blue-colour chemical into her blood stream, sending Lucy on a massive trip and a journey of revelation toher brain's full potential.
Narrated in parts and intersected with odd but strangely amusing montages of nature and wildlife, Lucy is definitely an odd-ball feature and some viewers – who were hoping for a more straightforward sci-fi thriller – might find it a little hard to accompany Mr. Besson on his latest journey.
Besson's conjecture to the question of what would happen if a human being was to use more than 10% of his or her brain – itslef an erroneous claim – is a little out there and, even though the director himself gets a little lost in his own ideas, the film is never boring.
The action is effectual but there is very little of it to be seen; Besson keeps his focus on Lucy and her perception of the new world now that her mind has tapped into the unknown.
The transition from a scared – and somewhat dim-witted – young woman into a supernatural Goddess is an exciting thing to watch unfurl and Johansson gives a committed performance. Regrettably, her co-stars, which include Freeman as the celebrated neuroscientist and Waked as the French police officer she seeks out for help, are thinly-drawn and never truly incorporated into the story.
Nevertheless, despite all of its imperfections, Lucy – which clocks in at just over eighty minutes – is an enjoyable and bizarrely cool summer-hit despite its lofty premise.