Mandela: Long Walk to Freedom: Ambitious but Crammed Biopic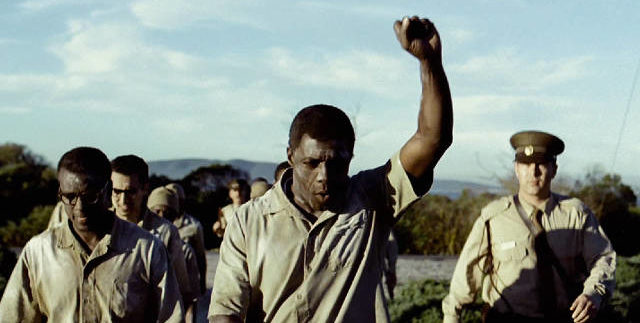 Based on Nelson Mandela's own memoirs, Mandela: Long Walk to Freedom is an ambitious biopic that looks at the remarkable life-story of the late South African President and his incredible journey.
Directed by Justin Chadwick, the story starts off in the 1940's portraying Mandela's (Elba) early beginnings as a lawyer, fighting for the rights of South Africa's black population in the racially and ethnically torn country. Sickened by the government's apartheid rule, Mandela joins the African National Congress; a growing opposition group that allows the people to speak up for their rights through peaceful protests.
Unfortunately, Mandela's marriage to young and dutiful wife, Evelyn (Pheto), could not sustain the pressure, and thanks to his rising commitment to the cause – and adulterous ways – the pair soon separate. Years later, he falls for Winnie Madikizela (Harris); a beautiful and equally passionate social worker. The couple marries in the summer of 1958 and Winnie throws her full support behind her husband, who by now is a key figure in the ANC.
The group, whose peaceful ways quickly turn to violence, soon fall to a government crackdown and Mandela, along with the rest of the ANC leaders, are sentenced to life imprisonment at the infamous Robben Island.
Despite the dodgy prosthetics, Elba does an admirable job in his portrayal of the late South African President. However, Harris steals the show with her electrifying performance of a woman who not only stood by Mandela's side for a turbulent thirty-eight years, but someone who also endured her own fair share of intolerance and injustice.
The film's major problem is that Mandela – South Africa's first black President and one of the most iconic figures of modern history, is never fully humanised and is portrayed almost as a rather hollow figure. His inner struggles and personal motivations are never fully touched on and the reasons behind his determination for a better tomorrow are treated with a highly structured tone.
Compressing almost fifty years of life into two hours of film was always going to be a difficult feat. With so much ground to cover, it seems that Chadwick's Mandela: Long Walk to Freedom has forgotten to stop, take a breath and reflect.