Mr. Peabody & Sherman: 60s Cartoon Gets Hollywood 3D Adaptation
Action & Adventure

Animation

...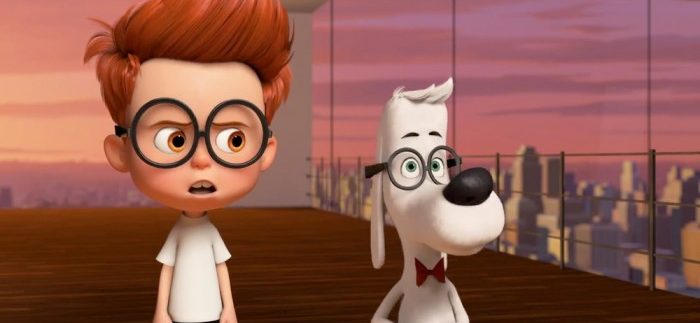 Based on the popular 1960's animated television series, The Rocky and Bullwinkle Show, Mr. Peabody & Sherman is the latest creation to come from Dreamworks Studios.
Mr. Peabody (voiced by Burrell) is no ordinary dog; he also happens to be an inventor, a scientist, a valued advisor to several U.S Presidents and, above all, a loving and a caring father to his adoptive human son, Sherman (Charles).
History plays an important role in their special relationship, and Mr. Peabody takes great pride in educating his son on important historical figures and world events, by taking them back in time through time-travelling machine, WABACK.
When Sherman begins his first day of school, he finds himself the subject of attention of bully, Penny (Winter), who finds Sherman's unique life a little too unconventional. Mr. Peabody's credibility as a father to a human boy is then questioned by aggressive social worker, Ms. Grunion (voiced by Janney).
Determined to smooth things over, Mr. Peabody invites Ms. Grunion and Penny's parents, Paul and Patty (Colbert and Mann), over for a gourmet dinner, in order to show that he and Sherman share a happy, loving life together. However, things soon get out of hand when Sherman decides to impress Penny by taking her on a ride on the WABACK; an unfortunate move which ends up causing a major tear in the space-time continuum, forcing Mr. Peabody to follow in an attempt to save the day.
Although its origins might be lost on many, the story of Mr. Peabody and Sherman, directed by Rob Minkoff – of Lion King and Stuart Little fame – still manages to speak to today's audiences who are much more accustomed to Toy Story, Shrek and the like. The action sequences are wonderfully put together with a smart use of CGI and the 3D aspect plays into the film seamlessly.
The humour is witty and there are plenty of educational curves thrown in, best benefitting the youngsters of the crowd. On the downside, however, the pacing is a little slow, particularly at the beginning.
The voice cast, meanwhile, is pretty spot-on; Burrell does a decent job of Mr. Peabody, balancing an equal amount of intellectual pompousness and warmth. As the lovable Sherman, young child-star Charles offers a perfect blend of both juvenile innocence and sincere emotion to his role.
Mr. Peabody and Sherman is pretty inoffensive on all levels, though a cynic may suggest that without the peculiar premise of a genius dog fathering a human boy, the rest if the film is a little derivative and ultimately quite run-of-the-mill.